News
Mitzvah Day Awards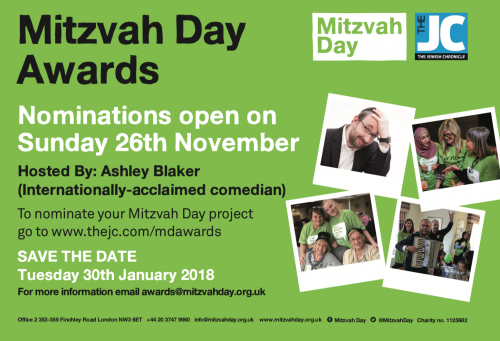 The annual Mitzvah Day Awards celebrate the very best of Britain's biggest faith-based day of social action.
We want your nominations as we seek to recognise those volunteers and projects that go above and beyond to make a real difference in society.
There are seven different awards to be won, covering a variety of different categories, including overall prizes for the Outstanding Mitzvah Day Group, both in the UK and internationally.
Nominations close on January 2, 2018, at which point our team of judges – including Mitzvah Day Chair Laura Marks and The Jewish Chronicle's editor – will pick their favourites in each category to put to the public vote.
To nominate your project for an award go to www.thejc.com/mdawards 
Please note, to nominate you will be asked to create a log in for the Jewish Chronicle's website. 
The Awards Evening
The Mitzvah Day Award Ceremony will take place on Tuesday, January 30, 2018.
Among other exciting social action projects, we will be running a collection for Bloody Good Period, who aim to reduce period poverty, providing foodbanks and asylum seeker centres with toiletries and feminine hygiene products.
On the evening of the Awards, Please bring any of the following:
Sanitary towels, Pantyliners and Tena pants
Tampons and Menstrual cups
Nappies and wet wipes
Shampoo and conditioner, and shower gel
Toothbrushes, toothpaste and deodorant
New underwear
For more details, please email awards@mitzvahday.org.uk
Award Categories 
Outstanding Mitzvah Day Individual 
Presented by JVN
Our special award for an individual volunteer or coordinator who goes above and beyond on Mitzvah Day to help others and make a difference to the community around them
Outstanding Mitzvah Day Group
Presented by Mitzvah Day
For the community or organisation with the most impressive project, social action or other achievements that took place on Mitzvah Day in the UK
Outstanding Mitzvah Day Outside the UK
Presented by the Commonwealth Jewish Council
For the most impressive project, social action or other achievement taking place outside of the UK
Mitzvah Day 365 Award
Presented by JW3
For the community or organisation that impresses with social action and or  building relationships all year round
Outstanding Interfaith Partnership
Presented by The Pears Foundation
For the best collaborative project between Jews and another faith group/s, with an emphasis on bringing people of different faiths together
Outstanding Youth Achievement
Presented by JLGB
For the best Mitzvah Day run by a school, college, cheder, youth club or any other group of under 21-year-olds
L'Dor Vador – From Generation To Generation
Presented by Jewish Care
A one-off award for the intergenerational project that best matches Mitzvah Day's theme for 2017 of L'Dor Vador