A taste of Mitzvah Day at interfaith cooking event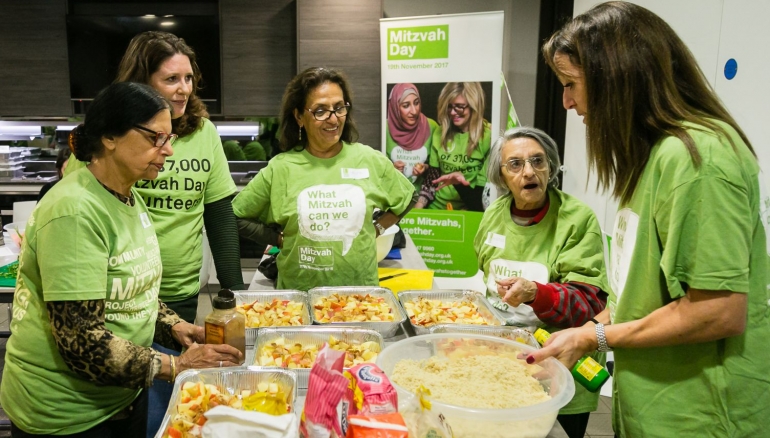 Category: Uncatagorised
Six faiths came together to give a flavour of what's in store on Mitzvah Day, with a special cooking event at JW3.
Jewish, Sikh, Zoroastrian, Bukhari Muslim, Ismaili Muslim and Greek Orthodox volunteers from across London united to prepare a meal for those in need at Ashford Place in Cricklewood.
The early event was designed as a showcase for everything that is set to come on Mitzvah Day – the UK's biggest faith-based day of social action – which will take place on and around November 19.
Daniela Pears, Mitzvah Day's interfaith chair, said: "It was a privilege to host Interfaith cooking at JW3. Volunteers from six faiths arrived as strangers and left as friends. We shared jokes and discussed future partnerships and cooking at our faith centres for the homeless.
"Whilst we chopped we chatted, we also learned a little about each others faiths – comparing the Jewish fasting on Yom Kippur to Muslim fasting over Ramadan and the period of dietary limitation for the Greek Orthodox community.
"We realised how much we shared and it left us all feeling warmed by new friendship and excited about what we will all do together on Mitzvah Day in November." 
Ashford Place is a charity which helps disadvantaged and marginalised people, resolving crisis relating to social isolation, homelessness, mental and physical health, substance misuse and unemployment.