Mitzvah Day reflections from St Albans Masorti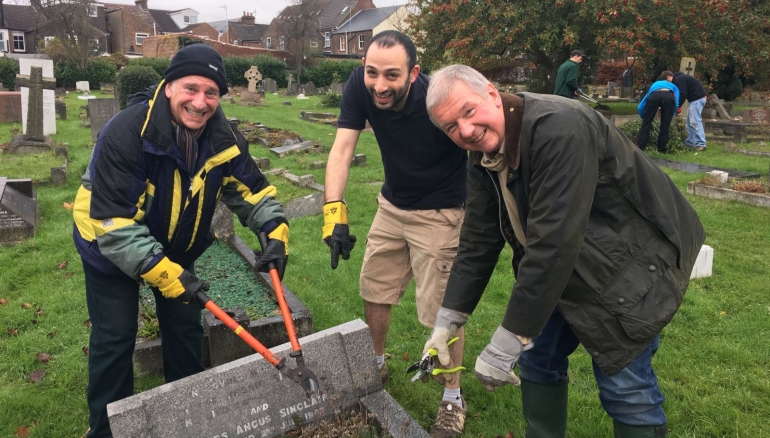 Category: Uncatagorised
Nick Grant blogs about his experience as the Mitzvah Day 2016 Coordinator at St Albans Masorti Synagogue:
St Albans Masorti Synagogue (known as SAMS) undertook its first Mitzvah Day event back in November 2009, and we have been faithfully supporting the initiative ever since.
This year, again, we decided that one project is never enough – and undertook nine events: 
Collecting household items for Syrian refugees recently relocated into St Albans.
Tidying up the local cemetery (pictured) – an interfaith event, together with the St Albans Mayor.
Recruiting stem cell donors with the Sue Harris Trust and Anthony Nolan Trust.
Cooking an evening meal for local homeless people.
Baking cakes and biscuits for children at the local women's refuge.
Generating artwork for a synagogue classroom.
Providing volunteers for World Jewish Relief.
Planting Trees in Heartwood Forest.
Knitting woolly hats and scarves for the homeless.
Some of these events are self-initiated, some assigned by St Albans Council, and the stem cell registration opportunity came from Mitzvah Day HQ.
For me, as the coordinator, August, September and October bring on the first round of stress, looking for initiatives that might be suitable for our synagogue community, and that would coherently work together.
We try to find a bunch of activities that all age groups, and all competencies, can participate in. What was difficult this year was getting St Albans Council to agree their tasks that they could handover to us, and that would benefit the local area.
Come the start of November, it's all about drawing the attention of the synagogue community to all the Mitzvah Day activities. Lots of emails, and even more face-to face discussions, seem to be required. And then we need to find a team-leader for each of the activities.
Gaining involvement has got easier over the years; our community is learning from one year to the next on what to expect and what is expected from them.
Except for the stem cell registration, our events were very well supported, with more than 25% of the synagogue membership getting involved!
The problem with the stem cell registration initiative was that it was only open to 16 to 30 years olds, the most difficult age group to engage with. Each person in that age group was emailed twice, and then got a personal phone call, but they still tended to have other priorities. Has anyone got a good idea how to spark their interest for next year's Mitzvah Day? If so, please info@e-sams.org
Post Mitzvah Day is also a busy time, as we are not only sending out thank yous and acknowledgements, but also collecting and sorting through the hundreds of photos, to choose just a few that might interest the papers I'm pleased to say that this year we got a photo included in both our local paper and the Jewish Chronicle.
And now, as January approaches, what I am doing? Starting the planning for next year's Mitzvah Day of course!