Dan Rickman: Talkin' 'bout our generations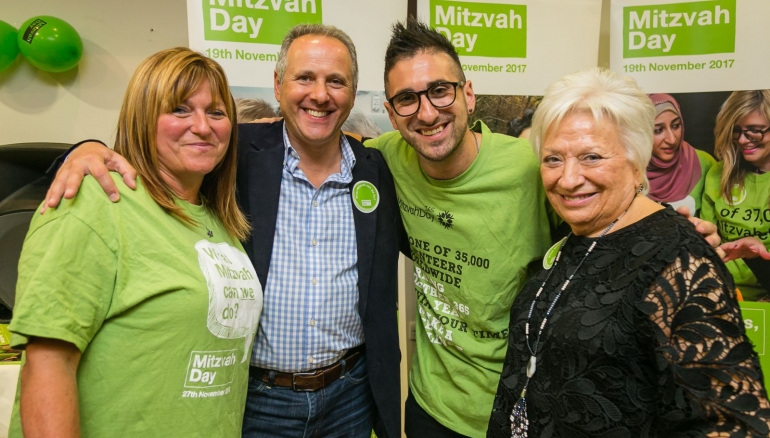 Category: Uncatagorised
Mitzvah Day's Executive Director Dan Rickman writes:
As Rosh Hashanah approaches, it's a good time to reflect on the year gone by for Mitzvah Day and what lies ahead.
In 2016, as in previous years, we were blown away by the number of amazing charities and causes our thousands of volunteers choose to support.
The sign up process for Mitzvah Day 2017 is now open, after a fantastically successful and vibrant launch event at Jewish Care's Michael Sobell Jewish Community Centre – which I enjoyed with my parents and grandma (pictured above).
And it has led us to ask ourselves how we can make this year's Mitzvah Day different and bring even more energy and focus to this social action that we all do together?
Our answer is to adopt the theme 'L'Dor Vador: From Generation to Generation' for this year, which we hope will provide an added dimension and inspire more positive change than ever.
This proudly Jewish phrase refers to the teaching and passing on of our tradition and ways of life across generations. It relays the notions of responsibility, continuity and respect for tradition that strengthen and sustain the Jewish people, yet it also points to a focal point of social action that can build and strengthen our communities.
One of the strengths of the theme is that it encompasses so many different ideals that Mitzvah Day volunteers holds close to their hearts.
It is partly a reaction to the struggles and loneliness faced by the elderly in our community. The Torah states that honouring the elderly is a mitzvah, conveying their wisdom as being of great value and significance.
Through intergenerational volunteering we not only fulfil mitzvahs but create opportunities to bond with and learn from our elders, both helping them and inspiring younger generations to contribute their energy.
L'Dor Vador, however, is not exclusively about acts of kindness. It is also symbolic, referring to the continuity of inner values and cultural traditions. It therefore applies to all intergenerational volunteering, including parents, grandparents and children.
In our busy and hectic world, we hope that we can create spaces for families to spend time together and take part in good deeds outside of the usual routine. We hope that this will not only benefit the wider community, but also the community of givers that come together to make a difference.
Intergenerational projects could include families visiting a care home together, taking part in a 'collectathon', or running an intergenerational arts and crafts or cooking and baking project, producing items which can be donated to charities.
Mitzvah Mummies – where parents with young children visit a care home or day centre to bring joy to residents – is always a popular choice, as are our 'put on your wellies' environmental projects, where volunteers of all ages come together to do an activity such as planting flowers outside a hospital or cleaning up a local area.
And once you have an idea of what type of project you'd like to do, join us by clicking here to register. Your details will then be sent to a Mitzvah Day Project Coordinator, who will help you to organise everything you'll need leading up to the day.
We are looking forward to having you join us in our intergenerational social action on, and around, November 19. To misquote the famous song by The Who, we'll be talkin' 'bout our generations.