Jewish and Muslim soldiers unite for seniors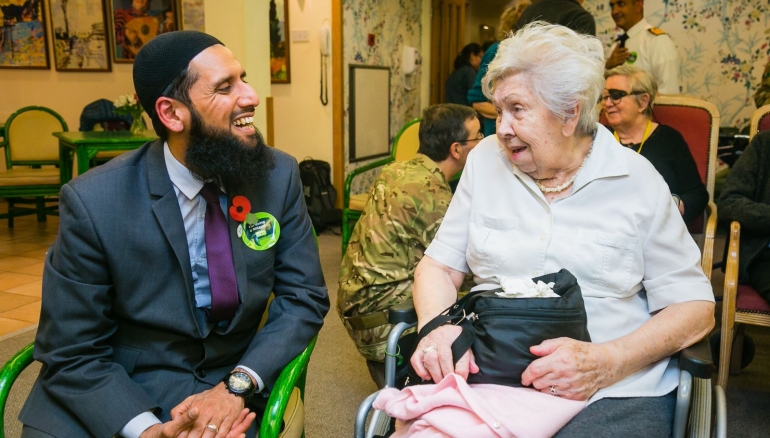 Category: Uncatagorised
Jewish and Muslim members of the military came together to entertain the elderly residents of Spring Grove Care Home with a special evening talk.
The soldiers of faith, many of whom have never met each other before, spoke about their service and answered questions, before taking time to mingle with the seniors. It is the first time they have ever taken part in such an event together.
Those in attendance included Imam Asim Hafiz OBE, the Islamic religious adviser to the Chief of the Defence Staff and founder of the Armed Forces Muslim Association, and Rabbi (Major) Reuben Livingstone, the senior Jewish chaplain to Her Majesty's Armed Forces.
They were joined by both serving and retired soldiers of all ranks from the Armed Forces Muslim Association (AFMA) and Armed Forces Jewish Community (AFJC).
The event was an early project as part of Mitzvah Day, the UK's biggest faith-based day of social action. Taking place on, and around, Sunday 18 November – Mitzvah Day sees more than 40,000 volunteers around the world giving their time not their money to help others in their local communities.
Imam Hafiz said: "Mitzvah Day is a powerful opportunity to join together with our Jewish friends and neighbours to support our two communities. Evenings like this remind us how much more we can achieve when we stand together.
"This year's Mitzvah Day is particularly poignant in light of the horrific shooting in the Pittsburgh synagogue. Jews and Muslims both share common values of respect for life and acceptance of others, and we are all united in our condemnation of this terrible attack. We stand united in the face of hatred.
"Britain is a country which has a history entrenched in diversity and values pluralism like no other. People of different faiths and cultures not only exist in here but are able to flourish with respect and dignity. Together we uphold important universal values which have been and continue to be protected by a diverse and unified group of courageous and brave individuals in our Armed Forces."
Rabbi Livingstone added: "Mitzvah Day marks and celebrates our shared humanity with others through kindness and social action, in synergy with how the Armed Forces embody an ethos of service to British society and represent many of the best values of good citizenship. This underpinned the visit to Spring Grove Care Home by Jewish and Muslim military personnel to support the elderly together in common cause.
"We need to remind ourselves that blind hatred affects us all. This can only really be countered by coming together to help others… and by that, ourselves"
Mitzvah Day founder and chair Laura Marks OBE also spoke at the event, telling residents more about the social action charity – which is this year celebrating its tenth anniversary.
Laura said: "There is nothing more British and harder working than the military services. Having Muslim and Jewish military personnel giving up their valuable free time and coming to visit elderly residents of Spring Grove sends a powerful message.
"It says that we are one, we are brothers and sisters and together we can really make a difference. It was also, to be honest, loads of fun!"
Spring Grove care home is based on Finchley Road in Hampstead. It has 40 single and three double residential rooms and provides residents with a happy, stimulating home environment.
Michael Williams, chair of the Springdene Care Homes Group, said: "It was both a pleasure and an education to have these distinguished members of the armed forces come and talk to our residents at Spring Grove. It was a truly enlightening evening."