Jews and Muslims unite again for Sadaqa Day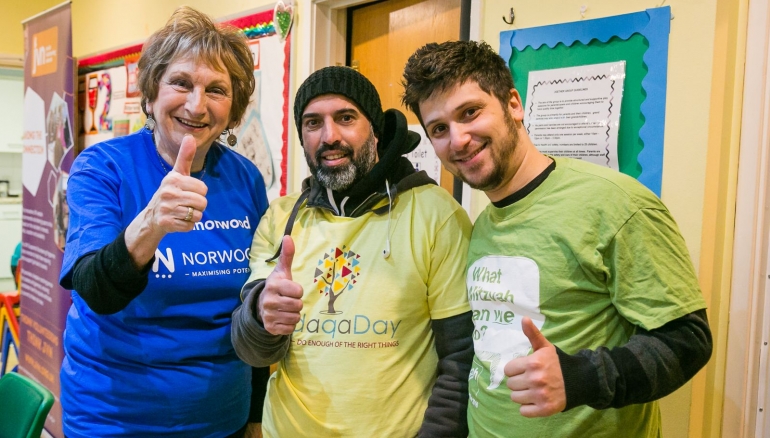 Category: Uncatagorised
A record 25 Jewish and Muslim partnerships took place on Sadaqa Day – the Muslim-led day of social action – as hundreds of people of both faiths united in all parts of the UK, and even took a trip across the channel, to volunteer their time to help others.
Taking place on and around Sunday March 18, Sadaqa Day has become an important part of the Muslim calendar in the UK since it's inception in 2015, with more and more Jewish people joining in each year to show unity between the two religions.
Mitzvah Day Founder Laura Marks OBE said: "Little by little, more Jews and Muslims than ever before are working together through social action – on Sadaqa Day in March, on Mitzvah Day in November and on grassroots projects throughout the year too. During this time, we have seen trust grow, prejudices disappear and firm friendships start to form.
"In November 2018, Mitzvah Day will celebrate its 10th anniversary and we can't wait to be joined by all our Muslim friends and neighbours around the country as we prove once more that what unites our faiths is much greater than what divides us."
Mitzvah Day's Interfaith Chair Lady Daniela Pears added: "The highlight for me of Sadaqa Day 2018 was seeing projects happening in so many different areas, especially those that aren't known for having large Jewish communities. The partnership between Mitzvah Day and Sadaqa Day sees real connections built between faiths at the grassroots level that then endure for many years to come."
This year's flagship project saw ten women from eight of Britain's leading charities and institutions, Muslims, Jews and Christians – including Mitzvah Day Founder Laura Marks OBE and Sadaqa Day Founder Julie Siddiqi, (who together founded Nisa-Nashim, the Jewish/Muslim women's network) – head to Dunkirk to take five car loads of goods to the Women's Refugee Centre there.
As well as delivering items ranging from tents, ponchos and underwear to embroidery, hand made teddy bears and colouring books, the combined Muslim, Jewish and Christian group also spent two days at the Centre, getting to know the female refugees and their children – chatting, playing games and painting nails.
The multi-faith group was led by Onjali Rauf (Making Herstory) and included Ridwana Wallace-Laher (Penny Appeal), Beverly Cohen (Muslim Aid), The Revd Michaela Youngson (London District of the Methodist Church), Catriona Robertson (Christian Muslim Forum), Hasina Zaman (Compassionate Funerals), Dahlia Basar (Making Herstory) and Nadira Huda (social worker). 
Other highlights on Sadaqa Day, the sister initiative of the Jewish-led Mitzvah Day, included:
The Mayor of Barnet Brian Salinger and Mitzvah Day Executive Director Dan Rickman joined Norwood service users, members of the Jewish Volunteering Network and congregants from Hendon Mosque to pack items for the Sufra NW London Food Bank.
Muslim Aid director Zac Hussain, Rabbi Mark Goldsmith of Alyth Synagogue and Ahmed Al Kazemi and Razi Kadeh from the new Shia Centre for Islamic Enlightening at the former Hippodrome in Golders Green, along with members of their communities, cooking at JW3 with all the food going to the homeless shelter run by Sha'arei Tsedek Synagogue in Barnet.
Further joint Jewish/Muslim cooking and knitting events at JW3, the Jewish community and cultural centre on Finchley Road, to help local homeless and vulnerable people. Groups taking part included Hampstead Unitarian Church, Ahmadiyya Muslims from Golders Green, and JW3 staff and volunteers. 
Peterborough Liberal Jewish Community and Masjid Khadijah Islamic Centre Peterborough teaming up for a variety of projects including blood donation, litter picking and planting seeds. 
A series of multi-faith projects in East London, including visiting local care homes and clearing ice on local roads. Volunteers came from the East London Mosque, which serves Britain's largest Muslim community, the New Stoke Newington (Masorti) Shul and other Muslim, Jewish and Christian groups.
Manchester's Friendship Circle – which supports Jewish people with special needs – teaming with North Manchester Jamia Mosque and the Cheetham Churches Group to clear up the local neighbourhood.
Members of Glasgow University Jewish Society and the Scottish Police Muslim Association among those at the Sadaqa Day event at Hillington Park Parish Church, where many people came together to donate food parcels to the Glasgow SW Food Bank.
Brondesbury Park United Synagogue and the Muslim Al-Khoei Foundation collecting items for St Laurence's Larder, which provides a warm welcome and fresh food for those who struggle to make ends meet. Children from both faiths also spoke about the meaning of charity and social action in their religion.
Members of Alyth (Reform) Synagogue and The Mosque and Islamic Centre of Brent cooking a meal for the vulnerable adults who benefit from Ashford Place.
Local Jewish and Muslim people at the London Central Mosque and Islamic Cultural Centre in Regents Park wrote cards for children being helped by Great Ormond Street Hospital.
Jews and Muslims across the civil service collecting food items to help the homeless, and a collection by Royal Free Hospital Trust staff outside Budgens in Belsize Park for St Laurence's Larder.
A special event at Nottingham's Salaam Shalom Kitchen – a joint project between Nottingham Liberal Synagogue and Muslim charity Himmah – and interfaith projects in Brighton, Leeds and Cardiff.