Jews join Muslims for Sadaqa Day social action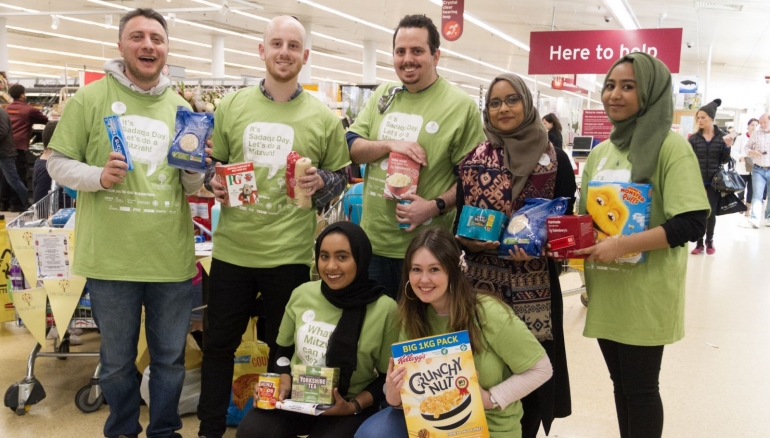 Category: Uncatagorised
More Jewish people than ever joined this year's Sadaqa Day of Muslim-led social action on Sunday March 26, as 15 joint Mitzvah Day and Sadaqa Day projects took place all over the UK.
A total of 1,500 volunteers took part – including Sikhs, Christians and those of all, and no, faiths – with projects designed to help refugees, the homeless, elderly and most vulnerable in society.
The record turnout was driven by the desire to show that people of faith coming together to help others was the perfect response to the recent terror attacks in London, displaying the positive power of religion and how what unites us is much stronger than that which divides us.
Many of the Muslim and Jewish people working together on Sadaqa Day have strong relationships stretching back years and formulated through Mitzvah Day – the Jewish-led day of social action, which has been running each November for more than a decade.
Daniela Pears, Mitzvah Day's interfaith chair, said: "Sadaqa Day, the Muslim day of social action, offered our Jewish community a wonderful opportunity to re-engage in local projects together with our Muslim friends.
"This sincere continued engagement, through volunteering side-by-side on meaningful projects, not only helps so many in need around us, but builds stronger bonds of friendship and greater relations across local faith communities all year round."
Mitzvah Day founder and chair Laura Marks OBE added: "Mitzvah Day, and this sister initiative in the Muslim community, are growing stronger each and every year.
"With hatred and division seemingly all around us, projects such as those on Sadaqa Day and Mitzvah Day – where genuine friendships are formed between people of different faiths – are more important than ever."
Highlights of the combined Jewish/Muslim projects taking part on Sadaqa Day included:
Eight hundred Muslim school children from Stanmore Mosque were joined by members of Northwood & Pinner Liberal Synagogue, Pinner United Synagogue, Edgware & District Reform Synagogue and JW3, as well as the Mayor and Mayoress of Hillingdon, at Northwood School in Harrow to collect and pack items for Sufra Food Bank, the Refugee Council, Salusbury World, a charity which supports refugee children, and Al Mizan, a Muslim charitable trust.
Cardiff's Jewish, Muslim, Sikh and Christian communities united for a series of projects, which included litter picking, visiting a care home and collecting goods for a local food bank.
Jewish and Muslim volunteers, along with Mike Freer MP, came together with the residents of the Sunridge Court care home in Golders Green to pack essential items to assist the vulnerable.
Leeds Jewish Community and Leeds Muslim Youth Forum collected food and toiletries at mosques around the city to help local vulnerable people.
Volunteers from all across London gathered at JW3 – the Jewish arts, culture and community centre on Finchley Road – to cook a three-course hot meal for a local homeless shelter.
Collections took place for food banks and refugee charities outside supermarkets around the country.
Fifty people of all faiths, and none, gathered in Holborn on Sunday night to feed the homeless, including volunteers from Innovative Muslim Minds, Children of Adam, City Sikhs, Mitzvah Day and Chevening (the UK Government's international scheme to develop global leaders).
Joint Jewish and Muslim Sadaqa Day projects also took place in Manchester, Nottingham, Bradford, Essex and across London, including at the Jewish Museum where a mixed faith group volunteers baked traditional Jewish matzah (unleavened bread eaten during Passover) for the homeless.
As well as the joint interfaith projects, Sadaqa Day also saw many Muslim events take place as individuals, mosques and other places of worship, schools, women's and community groups, scouts and guides groups got involved to help others.
Sadaqa Day founder Julie Siddiqi said: "Having out Jewish sisters and brothers involved in Sadaqa Day is a real key to the event's success. So many new links and connections have been made between people that will go way beyond just this one day.
"The Muslim community is very much looking forward to returning the good will on Mitzvah Day in November."