Langdon Members help to distribute Merch Packs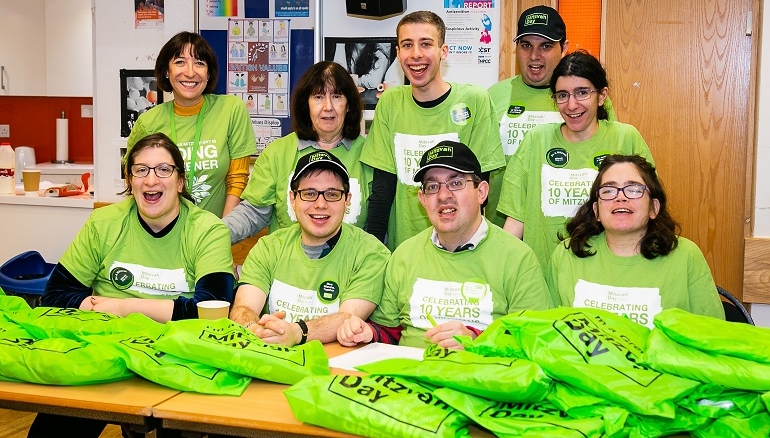 Category: Uncatagorised
Members of Langdon united with Mitzvah Day staff and trustees to pack and distribute 500 eco-friendly Mitzvah Day merchandise packs – including 1,500 T-shirts, 4,000 metres of bunting, 5,000 balloons, 500 hats and 30,000 stickers.
The merchandise will be used on Mitzvah Day (Sunday 17 November) when 40,000 volunteers around the world will take part in the faith-based day of social action. Jews, Muslims, Christians and people of all faiths and none, will come together to give their time, not their money, in social action projects that make a real difference to the community around them.
Langdon, the charity founded in 1992, enables Jewish people with learning disabilities to lead independent and fulfilling lives. They do this by providing members with places to live, and supporting them to find and secure work, and socialise as a community within their local community.
The Langdon members have formed a Mitzvah Day committee to plan the good deeds they will be doing for others this year. Seven of them, all of who have learning difficulties, also took part in this Sunday's 'Hub Day' – along with Langdon's Youth Services & Jewish Cultural Manager Sonia Muscovitch and Mitzvah Day's Senior Projects and Partnerships Manager Debbie Drapkin – to help distribute the packs at the Langdon community building in Edgware.
Merchandise was also given out by the Mitzvah Day team at both JW3 and the Mitzvah Day office on Finchley Road, Jami UK's Head Room Café in Golders Green, Radlett United Synagogue and Heathlands Village in Manchester, as well as being dropped off to co-ordinators in Essex and Yorkshire.
All packs for 2019 are fully sustainable – fitting with Mitzvah Day's theme of 'Going Greener' – coming in a re-usable bag with everything included being recyclable, reusable or biodegradable.
Mitzvah Day Chief Executive Georgina Bye said: "We were won over by the enthusiasm of the Langdon members, who not only coordinate Mitzvah Day activities for their wider community, but also ran a very successful Hub Day for us giving out lots of merchandise in the process. We also loved working with our friends at JW3, Heathlands and Jami, proof of the long-term partnerships Mitzvah Day creates and sustains."
Georgina added: "We made all our Mitzvah Day packs 100% green for 2019, as part of our long-term, year-round commitment to the environment. We have not only ensured all our merchandise is eco-friendly, but we've also given out T-shirts from last year and are encouraging people to reuse their Mitzvah Day merchandise and find their vintage Mitzvah Day T-shirts too!"