Langdon volunteers help give away 1,000 T-shirts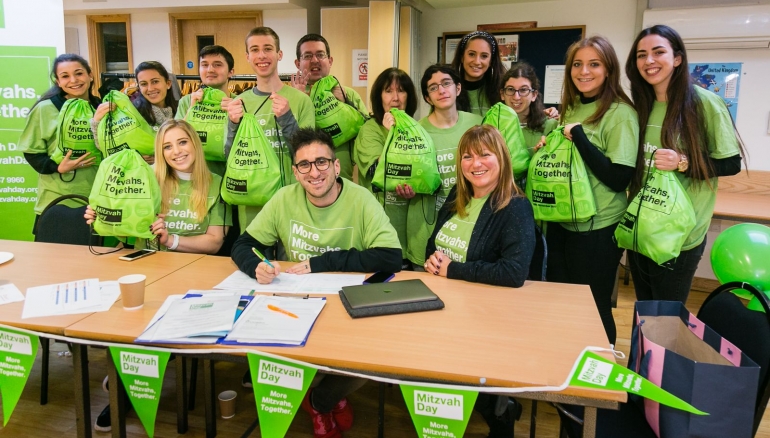 Category: Uncatagorised
Six volunteers from Langdon helped Mitzvah Day give out 1,000 T-shirts within 24 hours, as communities around the UK gear up to take part in the country's biggest faith based day of social action on, and around, Sunday November 19.
The Langdon team – who all have learning disabilities – joined six young professionals at Mitzvah Day's hub in Edgware, Barnet, to pack and give out bags that included T-shirts, balloons, bunting, stickers, posters and even baby bibs.
The merchandise was then also delivered all over the country by Mitzvah Day staff, including at hubs at JW3 on Finchley Road, Habonim Dror UK in Manchester, Radlett United Synagogue, Jami's Head Room Café in Golders Green and Jewish Care's Redbridge Jewish Community Centre. 
The packs are provided free of charge to any place of worship, school, youth group, office or other organisation taking part in Mitzvah Day – which will see 40,000 volunteers around the world give their time, not their money, to help those around them and build stronger communities.
The year-round partnership with Langdon – a charity which enables Jewish people with learning disabilities to lead independent and fulfilling lives – was set up by Mitzvah Day Executive Director Dan Rickman. The programme sees young professionals pair with Langdon members with the goal of breaking down some of the barriers and stigmas associated with learning difficulties. 
Dan was inspired by his own relationship with Langdon member Andrew Pievsky, who he has known for the last seven years.
He said: "People often admire what I do with Andrew, but the truth is that I get just as much out of our friendship as he does. That's why pairing Langdon members with young professionals – even for things such as packing and giving out T-shirts – is so important to me. It shows that ultimately we have more in common."
The Langdon volunteers taking part in the Mitzvah Day packing event were Charlotte Archer, Hannah Baruch, Robert Bluestone, Daniel Bourla, Jamie Pash and Andrew Pievsky.
Mitzvah Day's Project Coordinator Jacob Forman was the man behind the wheel on the day, making sure packs got to all parts of the country. He said: "As someone who has volunteered from a young age, and now is able to facilitate others in their volunteering, I've seen first hand how Mitzvah Day brings people together and is such a positive experience for the volunteers, as well as those they are helping.
"I loved delivering the packs, as it means I get to meet our coordinators, and their families, and hear all about the wonderful projects they have planned over the next fortnight."
Click here to see a wonderful gallery of photos from the day.