Leket Israel – The Giving Tree and other projects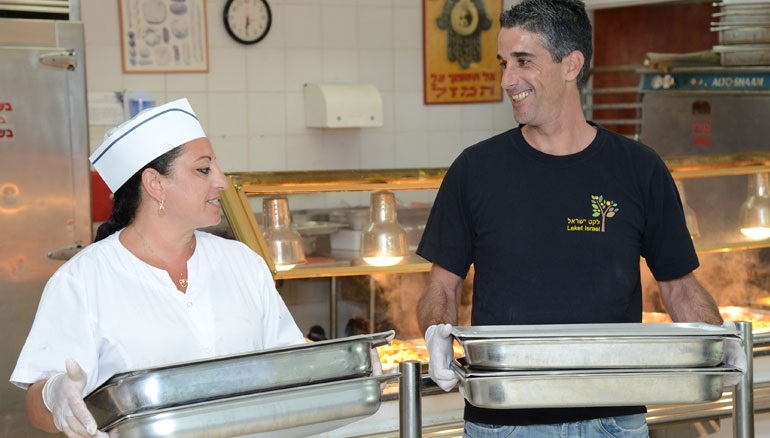 Category: Uncatagorised
On November 18th, 7 different organisations, including Akiva School, Synagogues, a charity for the disabled, a church and a university Jewish Society, adopted Leket Israel as one of their Mitzvah Day Projects.
The groups gathered at the different local sites, to design bags to be used in Leket Israel's "Giving Tree" Project – where volunteers collect surplus fruits from private home gardens to be donated to non-profit organizations.
"What's great about this project" says Leket UK Coordinator Zara Provisor "is that it allows children both from abroad and in Israel to get involved in the activity. The UK children provide the bags needed for collection and the children in Israel collect the fruits. The UK children see it's not just an art project but they're really doing something to help the needy in Israel. The Israeli children are the ones who take the bags and actually pick the fruits which are then distributed to the needy. It is a win- win project on global terms!"
Many homeowners have fruit trees in their back gardens and frequently are at a loss as how to pick the quantities of fruit and what to do with it! They're delighted to have someone take it off their hands and donate it to those who really need it.
The Mitzvah Day participants designed the bags with a mix of both Leket Israel themes and English themes such as "Keep Calm and Help People Who Aren't As Fortunate As You".
Leket Israel –The National Food Bank is the leading food rescue operation in Israel and a member of the Global FoodBank Network. The Giving Tree is just a small part of what the organization does. In 2018, Leket rescued 2,200,000 hot, nutritious meals and 15,000 tons of fresh fruits and vegetables for redistribution to an average of 180,000 needy Israelis. The hot food was rescued from the kitchens of over 20 hotels around the country, the IDF, corporate cafeterias and social events. Fruits and vegetables are donated and saved from becoming an environmental polluter and economic waste, in partnership with 500 farmers.
Hot food recipients include youth at risk – some of who are just the same age as those volunteering, but who are much less fortunate. They attend schools for 'youth at risk' that keep them in school with additional educational programmes for a very long school day. The hot food, rescued by Leket from hotels and IDF bases is a reason for them to stay in school. For some it is the only hot cooked food that they can rely on. Other recipients are the elderly and people attending welfare day centers who benefit not just from the healthy food but from the socialization of eating together.
Recently, 10 years hard work by Leket Israel resulted in the Food Donation Law in Israel being passed in the Israeli Parliament – the Knesset. Israel thus became one of only 6 countries in the world, encouraging food producers and caterers to donate their excesses.
Throughout the year, Leket Israel also holds nutrition workshops in cities around the country encouraging recipients of the rescued food to learn how to eat healthily and economically. Last year, the focus was on parents and children, cooking together. The focus in 2019 is on teaching pre-teens how to eat healthily.
In addition, Leket Israel looks forward to welcoming all participants to its fields and Logistics Center next time they're in Israel for hands on volunteering to help rescue food for those in need.  Please do mail us and set up a time to volunteer for both sorting and packing fruits and vegetables for redistribution or picking in the fields.
For further details please mail: zara@leket.org or check out our website: www.leket.org/eng
Leket UK is a registered charity #1126755