Mayor and senior rabbis take action on #MD16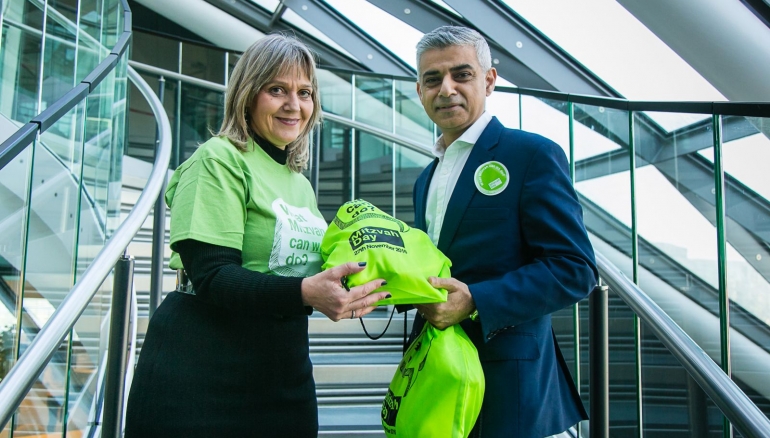 Category: Uncatagorised
Key political and religious figures were among 40,000 volunteers all around the world hosting tea parties, making teddy bears, wrapping Christmas presents, cooking meals and collecting goods for refugees and the most vulnerable in society, as part of Mitzvah Day – the UK's biggest faith-based day of social action. 
Bringing together Jews, Muslims, Christians, Hindus and those of all faiths, and none, Mitzvah Day saw volunteers – including London Mayor Sadiq Khan, Communities Minister Lord Bourne, Chief Rabbi Ephraim Mirvis, Imam Qari Asim MBE, Bishop of Edmonton Robert Wickham and MPs from all parties – giving their time, not their money, to make a difference to the community around them.
This year's Mitzvah Day – billed as #MD16 on social media – was especially focussed on building bridges and bringing people together who might otherwise stay apart, through joint social action projects to tackle the challenges of modern society. A 'mitzvah' is a good deed or an act of kindness – an integral part of Jewish life and teaching.
Mitzvah Day's founder and chair, Laura Marks OBE, said: "Since the EU Referendum and US Presidential Election campaigns, we've seen a recorded rise in racism and hate crimes, and a heightened fear of the outsider. The need to bring people together has never been more vital.
"Mitzvah Day 2016 saw people coming together for a record number of interfaith projects – many of which focussed directly on helping child refugees. Seeing members of many different faiths sitting side-by-side wrapping Christmas presents, or making cards and teddy bears, for those who have been through so much hardship shows everything that is good about our society."
London Mayor Sadiq Khan, who along with his team at City Hall collected biscuits and cakes for the Christmas Party for refugees at Alyth Reform Synagogue, said: "Thousands of volunteers of all faiths in London, and around the UK and the world, gave up their time to bring our communities together, in the service of others, for Mitzvah Day 2016. From supporting young asylum seekers to helping at homeless shelters, the selflessness and kindness shown during this special day is a big part of what makes our city, and our country, so great."
On Mitzvah Day more than 40,000 volunteers in 25 countries, of which 25,000 were in the UK, gave 150,000 hours of their time to help hundreds of charities and good causes. Key projects and events included: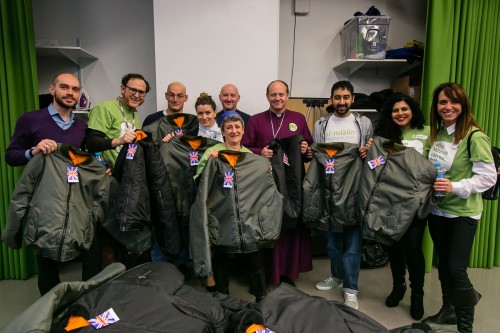 Rabbi Laura Janner-Klausner, Bishop of Edmonton Robert Wickham, BBC Radio 5 Live's Emma Barnett and The Guardian's Remona Aly joined hundreds of Jewish, Muslim and Christian volunteers at JW3, the Jewish Community Centre in Finchley Road, London, to make teddy bears, storybooks and blankets for refugees, as well as a meal and winter survival packs for the homeless (above).

Chief Rabbi Ephraim Mirvis attended three Mitzvah Day projects – as members of the United Synagogue were joined by other faiths to sort donations for refugees, sing at a care home and deliver warm clothing and food to St Mary's Church Shelter (above).
Members of four faiths were joined by Luciana Berger MP and Rabbi Danny Rich in wrapping festive presents for refugees in a Salusbury World project at The Liberal Jewish Synagogue, St John's Wood (below).

Interfaith tea parties were held for refugees and asylum seekers at Bradford Synagogue, Northwood & Pinner Liberal Synagogue and the Durham & North East Jewish Community. The Bradford event was attended by Naz Shah MP and the city's Lord Mayor and Lady Mayoress.
Five hundred young people in the 30 Jewish Lads' & Girls' Brigade (JLGB) groups in Glasgow, Cardiff, Birmingham, Manchester, Nottingham, Leeds, Liverpool, London and Essex, spent the week of Mitzvah Day making welcome cards for child refugees via the Seperated Child Foundation.
The faith communities in both Leeds and Edinburgh came together to hold a full day of events in aid of refugees – including huge collectathons of clothing and dry food in the two cities.
Mark Regev, the Ambassador of Israel to the United Kingdom, and Dan Patterson – creator of Mock the Week and Whose Line Is It Anyway – led a singalong at a care home.
Tulip Siddiq MP and her baby, Azalea Joy, were part of a combined group from the Muslim Teachers' Association, the Jewish Teachers' Association and Nisa-Nashim – the Jewish Muslim Women's Network – cooking a three-course meal for a local shelter.
Communities Minister Lord Bourne joined volunteers from Telereal Trillium, who provided IT drop-in sessions and cooked a meal at The Lodge, the St Mungo's project for former rough sleepers.
Manchester's faith groups, and schools, united at Yeshurun Hebrew Congregation to pack rucksacks for the city's homeless as part of The Wellspring Project.
Members of Berlin's Oranienburger Strasse Synagogue gave language lessons, played games with children and served food at the city's Spandau refugee shelter.
Young volunteers from Jüdische Liberale Gemeinde Or Chadasch in Switzerland took 30 refugee children on a day trip to the Zurich Zoo.
Mitzvah Day 2016 was launched in the Houses of Parliament earlier this month, when 20 MPs from all sides of the House made cupcakes for a Westminster care home. Mitzvah Day has the support of the leaders of all the UK's political parties with Prime Minister Theresa May commending how its volunteers help "build bridges, challenge stereotypes and make a real difference to the communities around them".
Chief Rabbi Ephraim Mirvis said: "Every single project is a most wonderful testament to the generosity, selflessness and community spirit shown by so many on Mitzvah Day. In our increasingly challenged world, this opportunity to celebrate the very best of society is of enormous value."
Qari Muhammad Asim MBE, Chief Imam of Makkah Masjid, who attended the Mitzvah Day event in Leeds, added: "Mitzvah Day is a fantastic way of bringing religious communities together, and volunteering for causes which really matter. The refugee crisis resonates with both the Jewish and the Muslim communities and can bind us together to tackle one of the biggest issues of our day."