Mitzvah Day launches with Jewish Care event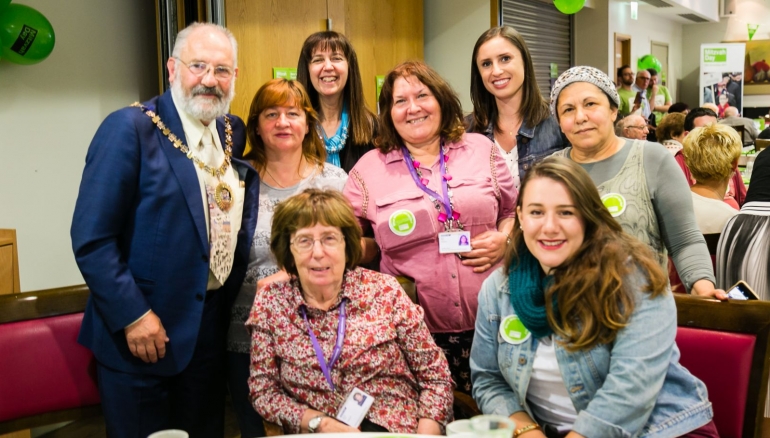 Category: Uncatagorised
More than 100 volunteers came together to launch Mitzvah Day 2017, by taking part in the largest ever 'Sunshine to Seniors' event.
The volunteers served tea, entertained and danced with older people at Jewish Care's Michael Sobell Jewish Community Centre, which is located on the Maurice and Vivienne Wohl Campus in Golders Green. 
They also heard a series of speeches to launch this year's Mitzvah Day – the UK's biggest faith-based day of social action where 40,000 volunteers give their time, rather than their money, to make a difference to the community around them. Mitzvah Day 2017 will take place on and around November 19.
Communities, synagogues and places of worship, schools, offices and groups of friends can sign up from today by visiting www.mitzvahday.org.uk
Mitzvah Day 2017 will have a special theme, with projects taking place all over Britain, and in more than 20 other counties, inspired by the Jewish value of L'Dor Vador: From Generation to Generation. 
Explaining the theme, Mitzvah Day Executive Director Dan Rickman said: "Each year we are blown away by the number of amazing charities and causes our thousands of volunteers choose to support. We hope this initiative will provide an added dimension of focus, aimed to inspire more positive change than ever.
"The Hebrew phrase L'Dor Vador translates to 'from generation to generation'. It refers to the teaching and passing on of tradition and ways of life across generations. It relays the notions of responsibility, continuity and respect for tradition that strengthen and sustain the Jewish people, yet it also points to a focal point of social action that can build and strengthen our communities."
Mitzvah Day founder and chair Laura Marks OBE added: "Having this theme provides an opportunity to recognise how we can all do something for others, together with our families, friends and neighbours. However young or old we are, we can always give back.
"The strength of family, and passing on knowledge and kindness through the generations, is something we Jews believe in firmly – as do people from all backgrounds, so we are expecting more intergenerational interfaith projects that ever along with our Christian, Muslim, Hindu and other faith partners."