Mitzvah Day, AJEX and JLGB unite for Parade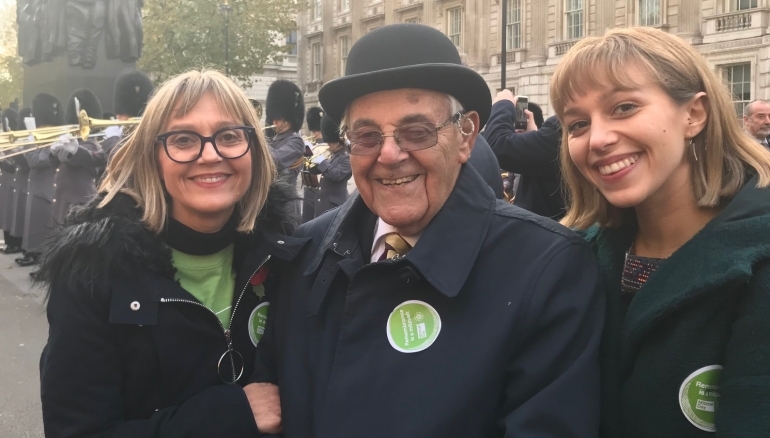 Category: Uncatagorised
The Association of Jewish Ex-Servicemen and Women (AJEX), the Jewish Lads' & Girls' Brigade (JLGB) and Mitzvah Day – the UK's biggest faith-based day of social action – are uniting to put on the largest Jewish gathering ever held at the Cenotaph, which will mark 100 years since the end of the First World War.
The three organisations are urging the whole Jewish community to come together at the Cenotaph, the National War Memorial in Whitehall, for the Annual AJEX Remembrance Ceremony and Parade, which takes place on Mitzvah Day itself – Sunday November 18.
All around the UK, preparations are underway to mark 100 years since the end of the First World War this coming November with a series of countrywide events around 'Armistice 100' – with the AJEX Remembrance Ceremony and Parade at the Cenotaph the central event for the Jewish community.
Mitzvah Day is working with its local coordinators so that some of the regular social action activities can take place that morning, allowing volunteers to then travel to the 2pm commemoration.
Jewish schools, charities, synagogues, youth groups and community centres are therefore invited to join this alliance by combining their Mitzvah Day activities with their own heritage, identity and educational programmes and, most importantly, sending as many representatives as they can to the Cenotaph Parade.
Jacques Weisser, AJEX Executive Director, said: "Now, more than ever, it is vital that a spotlight shines upon the Jewish contribution made to Britain in the First World War, by over 60,000 serving on land, sea and air and with more than 3,000 fatalities who must never be forgotten.
"We have, of course, coordinated with Mitzvah Day for some years, and worked with JLGB for over 90 years, but in this special anniversary year for us all, we all agreed how important it is to unite, so that even more local Mitzvah Day projects can take place.
"This will still leave enough time to enable a galvanised community to join us at the Cenotaph in their thousands to mark 100 years since the end of the First World War and the extraordinary contribution the Jewish community made and still make to Britain."
Mitzvah Day Executive Director Dan Rickman added: "This year on Mitzvah Day, we know that many in our community will want to do a local project in the morning and then join the AJEX Parade in the afternoon.
"We're extremely proud to be working so closely together with AJEX and JLGB to ensure this can happen efficiently, and we will be working with our local Mitzvah Day coordinators to help promote and facilitate this.
"Lots of new and exciting initiatives will also be launched later in the year, as we celebrate Mitzvah Day's 10th anniversary, including visits to Jewish veterans in care homes who are unable to attend the Parade."
The three organisations will also be working together to help recruit the hundreds of additional volunteers needed to support Jewish veterans and the thousands expected to participate in the Parade.
JLGB Chief Executive Neil Martin OBE said: "Every year, the JLGB takes on more and more responsibility for the AJEX Parade, a commitment that is not taken lightly and is undertaken with tremendous honour.
"This year, working more closely with Mitzvah Day than ever before, we want to encourage people of all ages, especially the children and young people of our community, to see, hear and experience the commemoration and feel the pride as they pay their respects to our British Jewish veterans and remember those who made the ultimate sacrifice for the freedoms we have today."
More information will be released over the coming months, but the community is urged to ensure that Sunday November 18, 2018, is firmly locked in all calendars for all to participate.