Mitzvah Day Awards 2019, in partnership with the Jewish Chronicle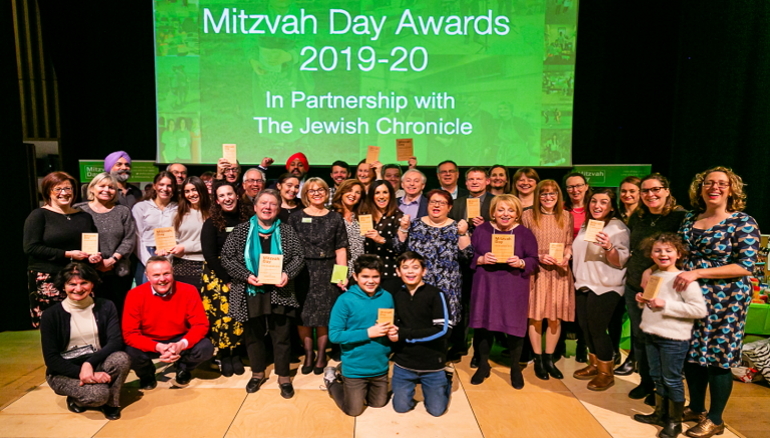 Category: Uncatagorised
Mitzvah Day projects from all over the UK, and beyond, were celebrated at the annual Mitzvah Day Awards ceremony held at JW3 last night (Tuesday 11 February).
Run in partnership with the Jewish Chronicle, this year's ceremony was hosted by BBC World newsreader and presenter Samantha Simmonds. Award presenters included Jewish Chronicle editor Stephen Pollard, new UJIA chief executive Mandie Winston and Jewish leader and green campaigner Rabbi Jeffrey Newman.
Mitzvah Day was also delighted to be joined by friends from all the UK's major faith communities, including Muslim, Christian, Hindu and Sikh leaders.
Tickets for the event were free, but all those in attendance were asked to bring food and other items for the charity FEAST, whose founder and director Hannah Style spoke about their work cooking for and supporting homeless and vulnerable people.
The nominees and winners on the night showcased the broad spectrum of Mitzvah Day's work – covering every region, age group, faith and ranging from communities taking on a project for the first time to those who have participated for the last decade.
Mitzvah Day chief executive Georgina Bye said: "The Mitzvah Day Awards were a fantastic celebration of all of the incredible social action projects that happened in 2019.
"This year more than ever our nominees and finalists demonstrated the breadth, depth, diversity and creativity of Mitzvah Day projects not only in the UK but around the world, as well as so many projects tying in with our Going Greener theme.The buzz in the room was amazing but what made it so special for me was hearing the conversations as people chatted and said to each other 'your project sounds amazing, I wonder if I can take that back to my community or maybe we can work together?That air of collaboration, celebration and support for one another was what made it a truly wonderful evening!"
The 2019 Mitzvah Day Awards results, chosen by public vote were:
 Outstanding Youth Mitzvah Day Award Finalists
Alyth
Clore Tikva
Jewish Council for North Central Florida
North Walney Primary School
South Hampstead High School
Winner: South Hampstead High School
As enthusiastic participants for the past 4 years, students at South Hampstead High School this year arranged an array of projects for Mitzvah Day. As well as a school-wide collection for a local food bank and a collection of sanitary products for Bloody Good Period, they also got involved in the eco-conscious upcycling project for Leket Food Bank in Israel, turning old t-shirts into tote bags.
Outstanding International Mitzvah Day Award
Adat Ari El
Mitzvah Day Australia
Mitzvah Day Brasil
Mitzvah Day Lazos Latam
Jewish Reform Congregation Shirat Ha-Yam
Winner: Mitzvah Day Australia
Mitzvah Day Australia has been a long-term Mitzvah Day partner and this year had over 50 projects in six states of Australia. Projects included cemetery conservation; green initiatives such as beach clean ups, bush care track work, repair shops, recycling, re-purposing and reusing of items. Cook-a-thons of soup, sandwiches, meals, cakes and biscuits. Collect-a-thons ranged from food and toiletries to baby essentials, underwear, to new toys. Arts and crafts projects such as gift making and an inter-generational project making solar lamps to provide the gift of light to impoverished communities around the world, and a youth project where teenagers designed and wrote thank you cards to the firefighters still fighting blazes across many states. They also held concerts for the isolated and elderly and friendship picnics with Israeli and Sudanese music and dancing.
Outstanding Mitzvah Day Interfaith Award
Indian Jewish Association (IJA)
Eccles Mosque
Northwood United Synagogue
Garnet Hill Hebrew Congregation
Spanish and Portuguese Holland Park
Winner: Northwood United Synagogue
Over 50 members of this small but vibrant community were involved in a trio of activities that marked a revitalised Mitzvah Day and a bringing together of volunteers of all ages and backgrounds. They made gift packs for the needy via Small Acts of Kindness (an outreach programme for isolated and lonely elderly people in Hertfordshire). They donated and distributed food and goodie packs for the Manna Food Bank in Watford, and a team of volunteers helped out at the Oasis Lunch Club for the homeless organised by the Elim Pentecostal Church in Watford with whom the synagogue has now struck up a close and enduring relationship.
 Mitzvah Day Going Greener Award
Dublin Jewish Progressive Congregation
The Friends of Harrow Weald
Kingston Liberal Synagogue
Kol Nefesh Masorti Synagogue
Winchester – W Carver Active Group
Winner: The Friends of Harrow Weald
New to Mitzvah Day this year, Friends of Harrow Weald were originally formed from a group of local residents that wanted to take responsibility for the upkeep and transformation of their local park. For their Mitzvah Day project, they welcomed local residents, members of Edgware and Hendon Reform Synagogue, Harrow Weald Brownies and council members, who together with their existing volunteers planted hundreds of bulbs, made a start on planting the new orchard, cleared overgrown areas and paths and picked up litter.
Outstanding Mitzvah Day Award
Mill Hill United Synagogue
Golders Green Synagogue
St Albans Masorti Synagogue (SAMS)
Newcastle United Hebrew Congregation
Jewish West Midlands
Winner: Newcastle United Hebrew Congregation
On Mitzvah Day members of the United Hebrew Congregation of Newcastle, Newcastle Reform Synagogue and representatives from the Anglican, Methodist and Catholic Churches, assisted by Northumbria Police Officers, helped fill and wrap over 200 festive shoe boxes for the homeless charity Changing Lives. Members of UHC also knitted squares to make blankets for a homeless centre, stitched together by Irene Gatoff, aged 100, and 96-year-old Sybil Vyner made three fabulous baby blankets. A van load of coats, shoes, boots, sweaters, bedding, suitcases and rucksacks was collected by a local refugee charity, and over 40 bin bags full of clothing were collected along with several large boxes of household goods for St. Oswald's Hospice charity shop. The Community Kosher Facility collected canned and dried foods for the local Food Bank.  The Community also made shifts to becoming greener by moving to compostable coffee and water cups and ensuring the City Council supplied recycling bins for the first time to the United Hebrew Congregation.
Congratulations go to the Winners and to all of the finalists.