Mitzvah Day does Sadaqa Day 2016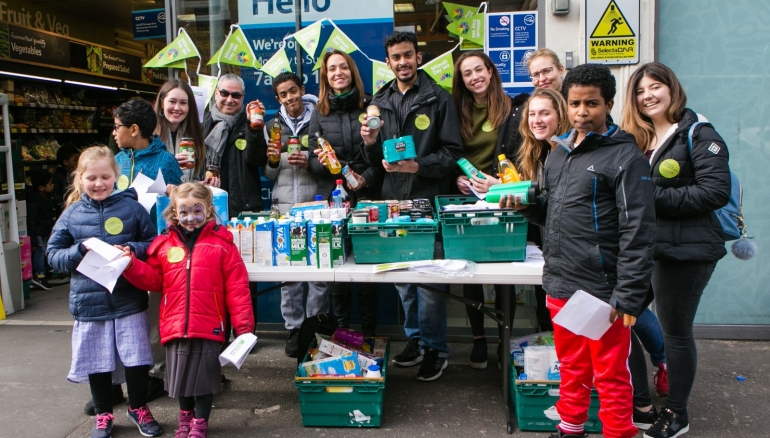 Category: Uncatagorised
Mitzvah Day has partnered with Sadaqa Day, our fledgling counterpart in the Muslim community, by running 10 interfaith volunteering projects over the last week.
Sadaqa Day, which launched last year, is a day of social action, where Muslims come together with their neighbours to give their time for charity and perform acts of kindness.
Sadaqa Day is modelled on Mitzvah Day, taking part in collective, hands-on projects which make a real difference to local communities.
The projects included:
Leeds Makkah Masjid Mosque and Sinai Synagogue Leeds united to collect and pack food parcels for the city's poor and needy, supported by PAFRAS – Positive Action for Refugees and Asylum Seekers.
Members of South Hampstead Synagogue combined with the Somali Bravanese community, outside Tesco in Belsize Park, to collect food for the Camden Foodbank.
The Deputy Mayor of Camden, Councillor Nadia Shah, joined a multifaith group of volunteers from the Royal Free Hospital, outside Budgens in Belsize Park, to collect food for the Royal Free's foodbank.
Volunteers from Moishe House collected toiletries outside Boots in Oxford Street, which donated to The Liberal Jewish Synagogue's drop-in for asylum seeker families in St John's Wood.
Volunteers from Norwood took part in a fabulous morning of planting at Carlton Avenue, the residential care home in Harrow.
Young Jews and Muslims cooked and served hot food to homeless people in Lincoln's Inn Fields in Holborn.
An interfaith cooking project at JW3, with Tulip Siddiq MP leading a Jewish-Muslim group – with the food going to Ashford Place, a community resource centre in Cricklewood, which provides advice and practical support on a wide range of issues including homelessness, training, employment and health.
We were also honoured to be joined by Home Secretary Theresa May, who formed part of a team of 14 cooks at a separate interfaith cooking session, making a meal of red lentil soup, mixed vegetable curry – served with tandoori root vegetables, naan bread and raita – and apple crumble at JW3: London's Jewish arts, culture and community centre, and a partner of Mitzvah Day. The food was again taken to Ashford Place.
The Home Secretary said: "I was delighted to see first-hand some of the important work that Mitzvah Day and Sadaqa Day are doing. It is all too easy for voluntary work to go unsung, but it is exactly initiatives like this that help to build the social fabric of our country.
"All across Britain communities are doing some extraordinary work and the Government is determined to stand with you and support you in your efforts.
"This event – and hundreds like it around the country – show how coming together can help us create resilient, cohesive communities. By working with each other, we can help to build a stronger Britain."
Istar Mohammed, a 17-year-old Muslim volunteer at The Royal Free who took part in the cooking, said: "It was an amazing experience, which I will cherish forever."
Mitzvah Day's interfaith chair Daniela Pears – who recently received a Points of Light Award at 10 Downing Street from the Home Secretary – added: "It is a privilege for Mitzvah Day to partner with Sadaqa Day, which offers both Jews and Muslims another opportunity to get together through a mutual desire to help those in need around us – and in turn develop and reinforce trust and friendship between our communities."
Other Sadaqa Day projects taking place within the Muslim community included children in their Qur'an class collecting for their local foodbank, groups picking up litter and tidying local communal areas and elderly people and their carers being treated to afternoon tea.
Sadaqa Day founder Julie Siddiqi said: "I saw how well Mitzvah Day worked and felt we could do something similar in the Muslim community. Just like last year, people rose to the challenge with those of all ages, and all backgrounds, joining in and creating a great buzz.
"We have enjoyed great support and help from our Jewish friends and there were 10 different interfaith projects that took place on Sadaqa Day, which the Jewish communities in London, Manchester and Leeds helped to organise through Mitzvah Day."
Mitzvah Day founder Laura Marks added: "Sadaqa Day is a gift for the Jewish community. It provides another day for Jewish/Muslim engagement and, with our 10 Mitzvah Day led projects nationwide, we really grasped the opportunity.
"It's all credit to our enthusiastic, hardworking volunteers. You don't stop, you go on and on building relationships, because it really matters."