Mitzvah Day founder calls for faith understanding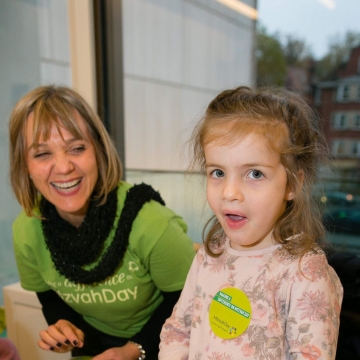 Category: Uncatagorised
Mitzvah founder Laura Marks returned to her original Jewish community, Edgware and District Reform Synagogue (EDRS), this week to make a powerful case for the benefits of interfaith work.
Laura gave the annual EDRS Rabbi Leigh Memorial Lecture, entitled 'Can building bridges with other faith groups make any difference in our troubled world and, if so, how on earth do we go about it?'
She focussed on current stresses between faith groups, the reasons for those tensions and, then, on how British Jews can start to do something about them.
Providing data about the increasingly separate nature of faith groups, fear of the Other and the impact of foreign events on the UK, Laura urged her audience to act rather than to remain passive.
Laura drew on her intfaith work with Mitzvah Day, Nisa-Nashim (the Muslim-Jewish women's network) and the Holocaust Memorial Day Trust to discuss grassroots initiatives and ways in which everyone can reach out to people from different faith backgrounds to build bridges.
 Having grown up at EDRS, she also spoke with great fondness about the synagogue and Rabbi Michael Leigh.
Laura said: "This event was a no-brainer for me. To be invited to my childhood synagogue, to re-engage with Rabbi Leigh's family and his widow Sonia, and to talk about the subject I feel most passionate about, was a gift."
Current EDRS rabbi, Rabbi Danny Smith, added: "It was a delight to have Laura speaking in such a positive way about things that were dear to Rabbi Leigh's heart. The message was clear that the active participation in interfaith understanding is a modern Mitzvah."