A Premier League project at Everton v Watford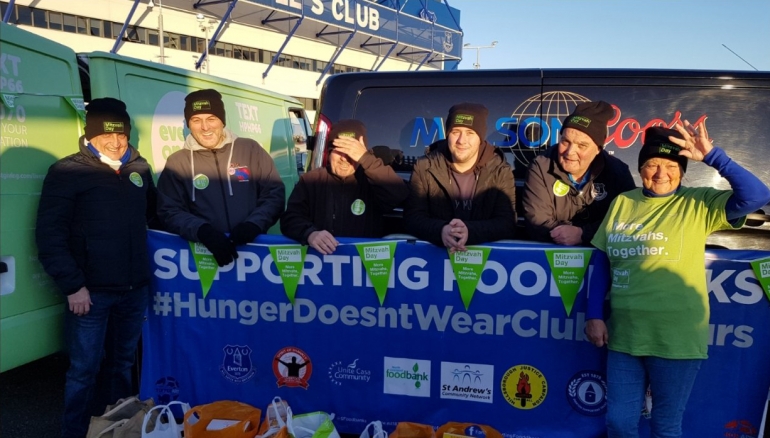 Category: Uncatagorised
The first ever Mitzvah Day at a football ground took place at Goodison Park on Sunday (November 5), as Everton and Watford fans united before their game to donate items to North Liverpool Foodbank.
Supporters of both teams, as well as members of the local Jewish community who visited for the occasion, donated food at three different zones around Goodison Park including at a special lime green van.
Mitzvah Day teamed up with Fans Supporting Foodbanks – a year-round project that helps to alleviate food poverty by collecting donations before Everton and Liverpool matches – for the special event.
Mitzvah Day Executive Director Dan Rickman said: "We have held Mitzvah Days in care homes, hospitals, shelters, supermarkets, farms and even cemeteries – but this was the first time we've ever taken our faith based social action to a football ground.
"It was amazing seeing so many fans of both teams taking part, as well as people of all faiths and none, showing that Mitzvah Day really is about bringing people together."
Fans Supporting Foodbanks was set up by the Everton Supporters Trust and Spirit of Shankly Football Supporters Union, working in conjunction with North Liverpool Foodbank. The project was started two years ago and has since worked with both Everton and Liverpool football clubs, schools and religious organisations of all denominations to show integration and how the whole community can work to help relieve food poverty.
Ian Byrne, Co-Founder of Fans Supporting Foodbanks, said: "It was really rewarding to work with Mitzvah Day – and explaining to our fellow fans what the day is all about.
"As well as getting lots of essential items such as pasta, rice, tinned fruit, cereals, dried milk and much more for North Liverpool Foodbank, it was also a way to educate people on what the local Jewish community do."
Mitzvah Day Founder and Chair Laura Marks added: "Fans Supporting Foodbanks in an incredible programme that we are delighted to partner with.
"We hope this is the first of many projects with Everton and Liverpool fans, and we are already talking about doing something involving all the region's religions for the Merseyside derby in December."
Mitzvah Day 2017 takes place on, and around, Sunday November 19.