Mitzvah Day reflections from Radlett United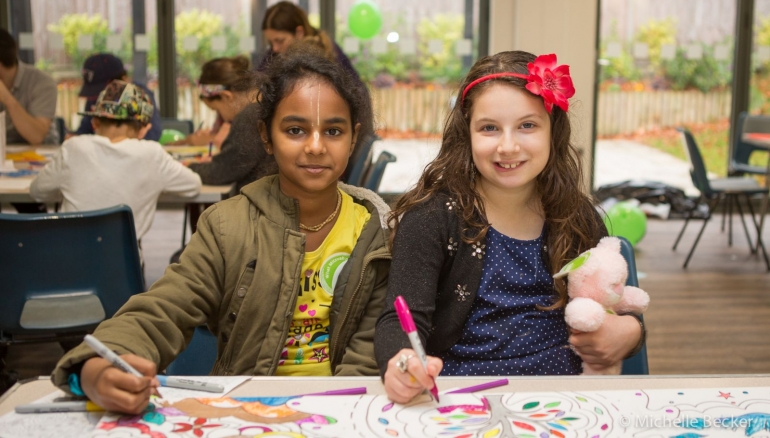 Category: Uncatagorised
Radlett United Synagogue's Michelle Becker blogs on how Mitzvah Day 2016 brought faiths together:
It has been wonderful to organise Mitzvah Day events in Radlett United Synagogue for the past two years and see the ongoing impact of the projects we've worked on. 
Last year, for example, we made teddies for children receiving heart surgery and, afterwards, I was sent remarkable photos of the smiling children who received the bears in Tanzania, Kenya, Ethiopia, Rumania, Zanzibar and China.
This year I invited families from Bhaktivedanta Manor Hare Krishna Temple to join our morning activities.
I think it's important to bring people together and see that we have many things in common. Nowadays it is easy to stay within our own circles and not really get to know the neighbours around us.
During the day, I overheard a Jewish and a Hindu child having a nice chat. The Jewish child asked: "So, what sort of thing do you do at your Temple?" It might be the first time that she had met someone from the Hare Krishna community and vice versa.
It's never been more important to bring people together than in our current times. When people get to know each other, it inspires understanding and tolerance.
During the day, the volunteers worked together on various activities including a massive 'Cookathon' with Sarah Brooks. The food was prepared and delivered to Watford New Hope Homeless Charity.
A team of knitters, with Rochelle Landau, created tiny baby hats for premature babies at Watford General Special Care Unit. Oliver Dowden MP even popped in for a knitting lesson, given by one of our volunteers. If more hats are needed, we will continue throughout the year.
We were also joined by wonderful volunteers from Kisharon. The men who have learning disabilities made sweetie packs for the Equal Charity and took part in all the activities.
The Deputy Mayor & Mayoress joined in as we made welcome cards and donated clothing to The Separated Child Foundation, brought books to PJ Library, made activity cards for Save A Child's heart and created a massive canvas together on the theme of giving and kindness. The afternoon session with Lewis Osbourne saw a group of faith partners planting daffodil bulbs together.
Looking back on Mitzvah Day, the key memory is of being inspired – inspired by the positive impact of the social action activities and also to see volunteers of different backgrounds working so amazingly together.