Mitzvah Day reflections from Woodford Liberal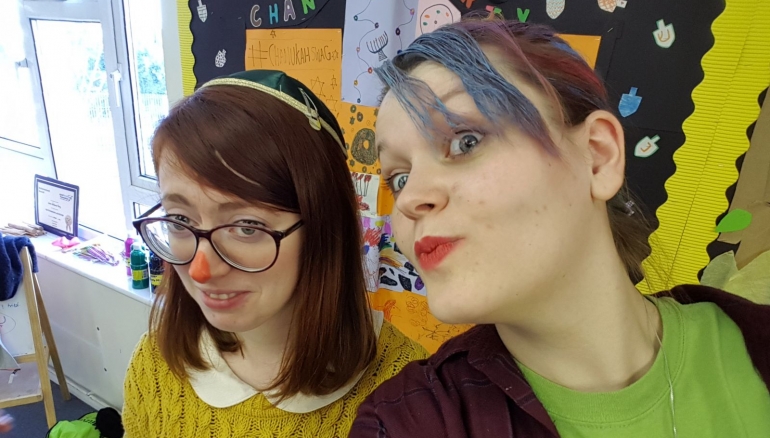 Category: Uncatagorised
Candy Parfitt (left) on a series of Mitzvah Day projects to celebrate inclusion and diversity at Woodford Liberal Synagogue: 
This year's Mitzvah Day was Woodford Liberal Synagogue's last. That's because from January 1, our community will unite with Bet Tikvah to form the new East London & Essex Liberal Synagogue.
Therefore we decided to go out with a bang and stretch Mitzvah Day 2016 over a whole weekend – using it as a wonderful opportunity to celebrate inclusion in the local community, inclusion in the Jewish community, and inclusion in our own synagogue community.
Volunteers from the synagogue collected non-perishable food items, toiletries and other necessities to deliver to two local organisations, Side By Side, a charity advocating for refugees, and Jason Lee House, an organisation providing temporary accommodation to homeless people. 
In addition, our amazing volunteers organised a tea and entertainment afternoon for elderly people in Redbridge, serving refreshments, snacks and plenty of laughter to guests from all walks of life.
Our Shabbat service that weekend was all about highlighting the fact that the things that make us different are beautiful and can bring us together when we take the time to learn about each other.
A song-filled family service was followed by a fun craft activity upstairs in the Cheder classrooms, with children painting terracotta pots in rainbow colours to take to sheltered accommodation this winter in an effort to bring a splash of colour to Redbridge, as the days inevitably get darker and greyer.
Adding to the colourful, inclusive, rainbow theme of the weekend, members of the community were invited to dress in rainbow colours to raise awareness of the work of the Keshet charity for LGBTQI+ Jews.
Rabbi Richard Jacobi delivered a sermon to the children encouraging them to think about all of the ways in which people can be different, and to celebrate our differences. Once the children were upstairs painting pots, Rabbi Jacobi continued his talks on the theme of privilege, inclusion and advocacy – with the help of a video and guest speaker. It sparked a lot of discussion and debate among congregants, as well as inspiring everyone to think about ways in which we can all make our community more welcoming and inclusive.
Liberal Judaism is committed to inclusion and community, and we are proud to promote the biblical teaching that we are all b'etzelem elohim (made in the image of God) with our Mitzvah Day activities.
Now the planning begins for East London & Essex Liberal Synagogue's first Mitzvah Day in November 2017…