Mitzvah Day runs first profile raising events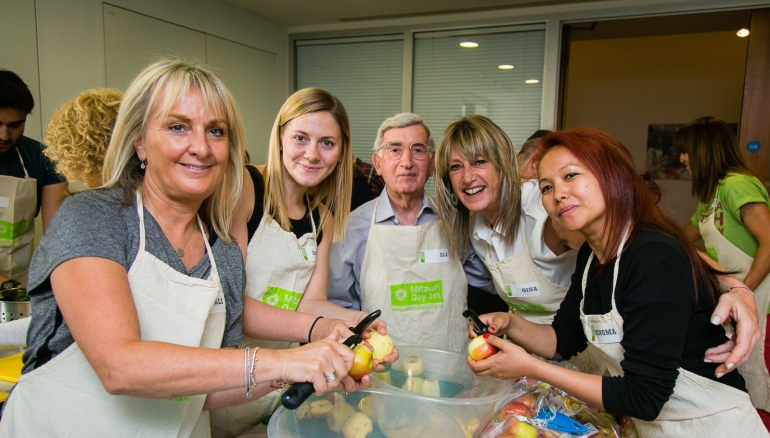 Category: Uncatagorised
Mitzvah Day has run its first ever profile raising events, hosting two charity cooking days for more than 30 of its key supporters.
The group of leading figures in the Jewish community came together with representatives of 10 different charities supported by Mitzvah Day, to make three course meals for Sufra NW London – a community food bank and kitchen – and the New Horizon Youth Centre, which works with young people who are vulnerable, homeless or at risk.
Mitzvah Day's executive director Dan Rickman said: "Mitzvah Day grows year on year with more projects, more volunteers and more people helped – and 2016 is already shaping up to be the busiest yet. That's why we felt now was the right time to hold our first ever profile raiser.
"Rather than the typical fundraising dinner, we wanted an event that really showed our key supporters what Mitzvah Day does and have them take part in a project to help some of those most in need in society." 
Mitzvah Day founder Laura Marks added: "The key to this event was our supporters directly meeting, and cooking alongside, 10 of our charity partners – hearing and seeing first hand how their financial support helps Mitzvah Day help some of the most wonderful charities in the community."
The cooking events took place at JW3, London's Jewish arts, culture and community centre, and a partner of Mitzvah Day.
Charity representatives taking part in the two events included senior staff from Norwood, St Mungo's, Marie Curie Hospice, Royal Free Hospital,  Doorstep, Sunridge Court, Dashwood House, Camden FoodBank, New Horizon and Sufra.
Together the 40+ participants cooked dishes including cauliflower and chickpea soup, mixed vegetable curry, cumin infused rice and apple crumble.