Mitzvah Day's new staff volunteering initiative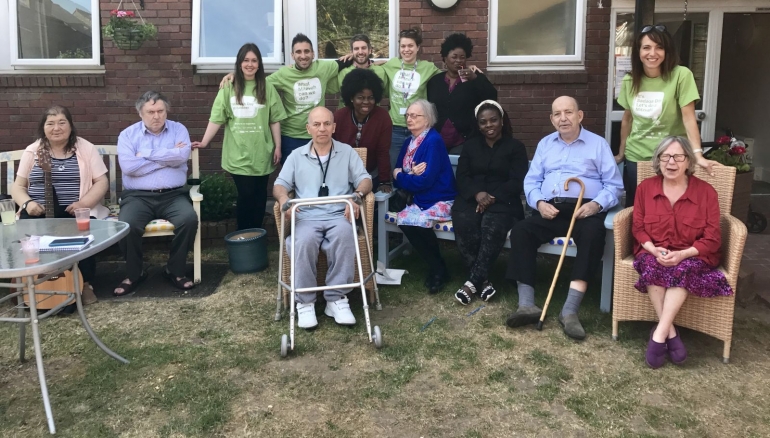 Category: Uncatagorised
Five Mitzvah Day staff members – including executive director Dan Rickman and interfaith chair Daniela Pears – made smoothies for residents at Sidney Corob House, in Hampstead, as part of the charity's new monthly volunteering initiative.
The team put on the smoothie session for those living at the Jewish Care mental health residential home, which is located in Hampstead, during Mental Health Awareness Week.
They first spent time getting to know the Sidney Corob residents, before whipping up musical-themed smoothies including the Chuck Berry, Bananarama & Strawberry, Club Tropicana and Green Day.
The visit was the first in a new scheme, instigated by executive director Dan Rickman, which will see staff members and trustees of Mitzvah Day volunteering at Sidney Corob House each month.
Dan said: "It is so important to me that the team get involved in hands-on volunteering all year-round, rather than just co-ordinating and organising it for others.
"I want them to regularly see first hand the benefits of volunteering, not just for the people Mitzvah Day helps but also the sense of pride, fulfilment and togetherness it brings to the volunteers themselves.
"I'm also keen that we get to know the local community around us. For example, we never realised that Sidney Corob House was just around the corner to our Finchley Road head office, offering Jewish people over the age of 50 a range of care packages to suit their individual needs."
"It was fantastic to really get to know the residents there… and the smoothies tasted pretty good too!"
Mitzvah Day 2017 will take place on, and around, Sunday November 19, and will see more than 40,000 people give their time, not their money, to make a difference to the community around them. Jewish-led, Mitzvah Day brings together people of all faiths, and none, to volunteer side by side.
To find out more about participating on Mitzvah Day, or to get involved in volunteering all year round, please email info@mitzvahday.org.uk