More than 90 people attend Mitzvah Day tea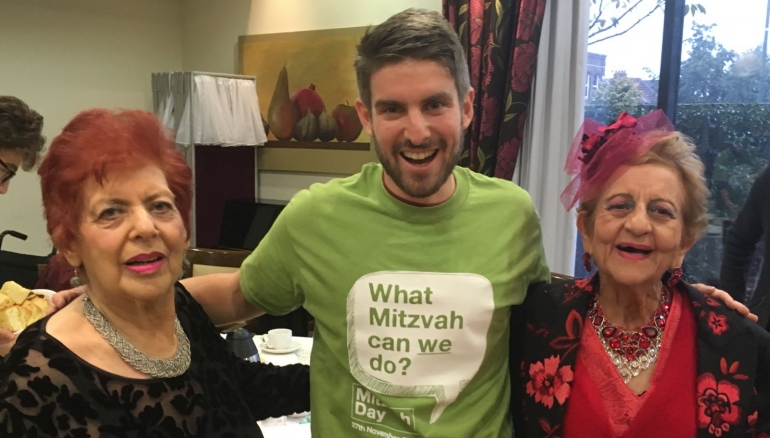 Category: Uncatagorised
The first Mitzvah Day Active event of 2016 saw 15 young professionals dancing with, and serving drinks to, older and vulnerable people, including Holocaust survivors, at a special tea and dance.
Taking place at Jewish Care's Maurice and Vivienne Wohl Campus, in Golders Green, Barnet, the Sunday tea event was attended by more than 90 people, including residents, volunteers and staff.
The volunteering group was led by 32-year-old Simon Murray, from Borehamwood. It was part of the Mitzvah Day Active initiative which brings young adults together to get involved in hands-on social action.
He said: "Everyone had such an incredible time – there was such a great party atmosphere and we loved chatting, singing and dancing together with the older people. I certainly slept well on Sunday night. The tea embodied the Mitzvah Day theme of 'bringing people together' and it's a great chance to experience first-hand the feel-good factor of getting involved in social action."
Jewish Care runs the monthly Sunday tea events, attended by people from a range of the charity's services including the Holocaust Survivors Centre, residents of Selig Court (an independent living scheme in Golders Green) and members of Jewish Care's Michael Sobell Community Centre. With a grant from Six Point Foundation, the teas aim to reach out to Holocaust Survivors and refugees – as many of them have little or no family. Most of the volunteers are participants in Jewish Care's Lay Leadership Development Project, a predominantly peer-led programme for young people who want to become more engaged with Jewish Care.
Simon, who is the Chair of the Lay Leadership Development Group, added: "These teas are so important and I try and bring a group of volunteers every month. The annual Mitzvah Day Active tea is always the most well-attended – by both volunteers and older people – and it is definitely a highlight of the year for us all."
Mitzvah Day takes place on, and around, Sunday November 27. It will see more than 40,000 volunteers take part in hands-on social action projects in 20 countries, including 30 Mitzvah Day Active groups.
Mitzvah Day Project Coordinator Jacob Foreman, 27, from Gants Hill, Redbridge, also took part in the tea. He said: "We always hear that young people are more selfish these days, too engrossed in smartphones and selfies and not the world around them. Mitzvah Day Active sets out to prove that the opposite is true – that young adults do want to give their time to make a difference to the community around them.
"I got to meet so many amazing people at the Sunday tea, hearing incredible stories and being dragged up onto the dance floor time and again. We hope that by attending projects such as this, it will inspire young professionals to volunteer all year round – addressing real needs and strengthening our civil society."
Young professionals interested in joining Simon and the other volunteers at the monthly Sunday tea events, should contact Jewish Care's volunteer department on 020 8922 2405 or by emailing Volunteer@jcare.org
Young professionals looking to form a Mitzvah Day Active group can get more information by emailing dan@mitzvahday.org.uk or calling 020 3747 9960.