MPs decorate cupcakes to launch Mitzvah Day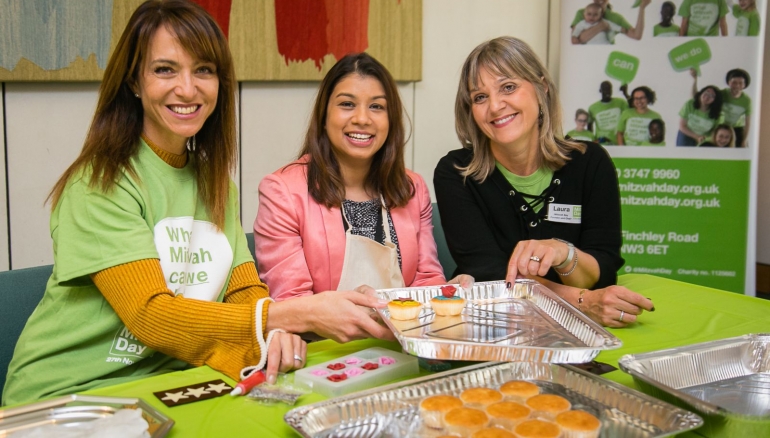 Category: Uncatagorised
Twenty MPs and Peers, from all sides of the political spectrum, came together in the Houses of Parliament on Monday October 31 to launch Mitzvah Day 2016, the UK's biggest faith-based day of social action.
It was run in partnership with the All Party Parliamentary Group (APPG) on British Jews and hosted by Tulip Siddiq MP.
The Parliamentarians – who included Labour Shadow Chancellor John McDonnell and Shadow Home Secretary Diane Abbott, senior Conservatives Theresa Villiers and Sir Peter Bottomley and the Liberal Democrat Foreign Affairs Spokesperson Tom Brake – decorated cupcakes, which were then taken to Norton House care home, in Westminster, as part of a 'sunshine to seniors' project where volunteers served tea and spent time with the residents.
The MPs also met with representatives from Mitzvah Day and a number of Jewish youth movements, as well as Gillian Merron, Chief Executive of The Board of Deputies of British Jews.
Mitzvah Day 2016 – which takes place on, and around, Sunday November 27 – will see more than 40,000 volunteers in Britain and 20 other countries giving their time, not their money, to make a difference to the community around them.
This year, more than ever, Mitzvah Day is focused on building bridges and bringing people of all faiths, and none, together.
Laura Marks OBE, the founder and chair of Mitzvah Day, explained: "Given the recorded rise in hate crime we've seen recently, and the heightened fear of the outsider, the need to bring people together has never been greater. That's why our focus at Mitzvah Day is on building bridges through doing projects which tackle the challenges of modern society, and which bring people together who might otherwise stay apart. Our aim is to celebrate making a difference to local causes in joy and friendship.
"And what better way to launch this year's Mitzvah Day than by bringing together so many MPs, with contrasting political views, to do something that makes a real difference to the local Westminster community."
The MPs and Peers taking part in the launch event were Diane Abbott, Luciana Berger, Sir Peter Bottomley, Tom Brake, John Cryer, Oliver Dowden, Louise Ellman, Nus Ghani, Kelvin Hopkins, Nigel Huddleston, John McDonnell, Liz McInnes, Lord Mendelsohn, Melanie Onn, Barry Sheerman, Tulip Siddiq, John Spellar, Wes Streeting, Stephen Timms and Theresa Villiers.
Click here to see a slideshow of pictures