Muslims and Jews break chicken soup record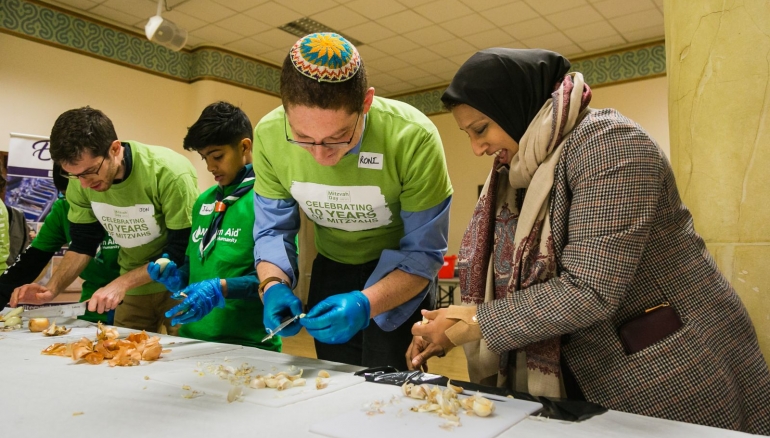 Category: Uncatagorised
Mitzvah Day and leading international charity Muslim Aid teamed up to make the largest volume ever of chicken soup to feed London's homeless and vulnerable. This cookathon  was the flagship event for the Mitzvah Day #ChickenSoupChallenge. 
Over 1,000 portions of soup were cooked throughout the day using the kitchens at the East London Mosque; the majority  made to a traditional Jewish chicken soup recipe, using halal chickens.  
This was part of more than 2,500 portions of kosher, halal, vegetarian and/or vegan soup cooked up at 20 events nationally – all of which were taken by volunteers to shelters and hostels all around the UK and shared with those in need. Soup-making events also took place in Germany, Poland, South Africa and Australia.  
Chicken soup is often known as 'Jewish penicillin' for its nurturing and medicinal properties. Soup also has significance for Muslims, as there is a prophetic tradition which encourages Muslims to water down broth, so there is always enough to share with neighbours.   
Laura Marks  OBE, founder and chair of Mitzvah Day, said: "Mitzvah Day is all about bringing people together through social action to fulfil the real need in today's world of breaking down barriers. Some of the people from each community taking part will never have met a Jewish or a Muslim person before, let alone chopped vegetables alongside them, and will now be leaving as friends."  
Jehangir Malik, CEO of Muslim Aid said: "If we let our imaginations take us back about 80 years, the site of the mosque was the former Fieldgate Street synagogue, which will have attracted crowds of Jewish people on Friday nights and Saturday mornings. This Mitzvah Day #ChickenSoupChallenge is a wonderful initiative to bring our two communities together in a part of London which is meaningful to us both and to spread a positive interfaith message around the world."  
Other nationwide Mitzvah Day events forming part of the #ChickenSoupChallenge included cooks at Radlett United Synagogue attended by Chief Rabbi Ephraim Mirvis and Israeli Ambassador Mark Regev, the JW3 Jewish Community Centre on Finchley Road attended by London Mayoral candidate Shayn and the Salaam Shalom Kitchen in Nottingham. Soup is also being made by Jewish and Muslim communities in Hertfordshire, Essex, Wimbledon, Norwich, Leeds, Peterborough and Manchester.  
Muslim Aid is one of the top 20 UK relief and development agencies, alongside Christian Aid, Save the Children and Oxfam. It was set up in the UK in 1985 to provide humanitarian assistance to disaster affected countries and to help poor communities overcome poverty. Muslim Aid covers 70 countries, working with all communities irrespective of faith, ethnic origin or political system. For further information visit  www.muslimaid.org.