Mitzvah Day Awards 2019, in partnership with the Jewish Chronicl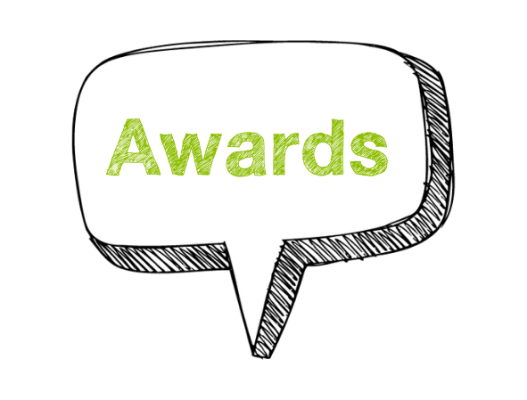 Celebrating Success!
Mitzvah Day Awards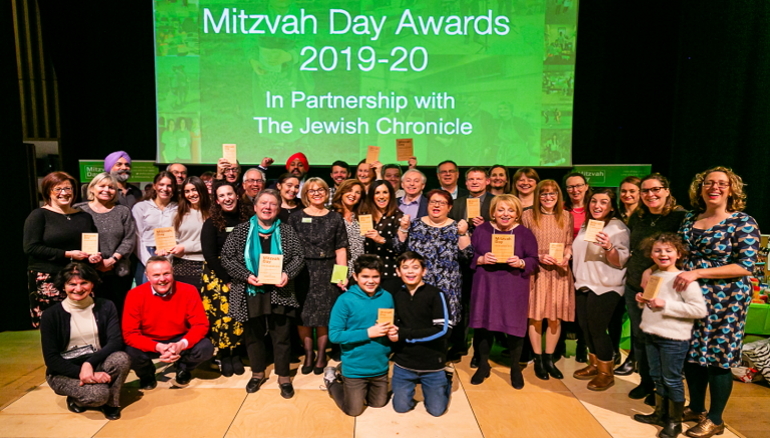 All MD 19 Finalists® Photo by Yakir Zur
2019 Mitzvah Day Awards
Mitzvah Day projects from all over the UK, and beyond, were celebrated at the annual Mitzvah Day Awards ceremony held at JW3 last night (Tuesday 11 February).
Run in partnership with the Jewish Chronicle, this year's ceremony was hosted by BBC World newsreader and presenter Samantha Simmonds. Award presenters included Jewish Chronicle editor Stephen Pollard, new UJIA chief executive Mandie Winston and Jewish leader and green campaigner Rabbi Jeffrey Newman.
Mitzvah Day was also delighted to be joined by friends from all the UK's major faith communities, including Muslim, Christian, Hindu and Sikh leaders.
Tickets for the event were free, but all those in attendance were asked to bring food and other items for the charity FEAST, whose founder and director Hannah Style spoke about their work cooking for and supporting homeless and vulnerable people.
The nominees and winners on the night showcased the broad spectrum of Mitzvah Day's work – covering every region, age group, faith and ranging from communities taking on a project for the first time to those who have participated for the last decade.
Mitzvah Day chief executive Georgina Bye said: "The Mitzvah Day Awards were a fantastic celebration of all of the incredible social action projects that happened in 2019.
"This year more than ever our nominees and finalists demonstrated the breadth, depth, diversity and creativity of Mitzvah Day projects not only in the UK but around the world, as well as so many projects tying in with our Going Greener theme.The buzz in the room was amazing but what made it so special for me was hearing the conversations as people chatted and said to each other 'your project sounds amazing, I wonder if I can take that back to my community or maybe we can work together?That air of collaboration, celebration and support for one another was what made it a truly wonderful evening!"
The 2019 Mitzvah Day Awards results, chosen by public vote were:
Outstanding Youth Mitzvah Day Award Finalists
Alyth
Clore Tikva
Jewish Council for North Central Florida
North Walney Primary School
South Hampstead High School
Winner: South Hampstead High School
As enthusiastic participants for the past 4 years, students at South Hampstead High School this year arranged an array of projects for Mitzvah Day. As well as a school-wide collection for a local food bank and a collection of sanitary products for Bloody Good Period, they also got involved in the eco-conscious upcycling project for Leket Food Bank in Israel, turning old t-shirts into tote bags.
Outstanding International Mitzvah Day Award
Adat Ari El
Mitzvah Day Australia
Mitzvah Day Brasil
Mitzvah Day Lazos Latam
Jewish Reform Congregation Shirat Ha-Yam
Winner: Mitzvah Day Australia
Mitzvah Day Australia has been a long-term Mitzvah Day partner and this year had over 50 projects in six states of Australia. Projects included cemetery conservation; green initiatives such as beach clean ups, bush care track work, repair shops, recycling, re-purposing and reusing of items. Cook-a-thons of soup, sandwiches, meals, cakes and biscuits. Collect-a-thons ranged from food and toiletries to baby essentials, underwear, to new toys. Arts and crafts projects such as gift making and an inter-generational project making solar lamps to provide the gift of light to impoverished communities around the world, and a youth project where teenagers designed and wrote thank you cards to the firefighters still fighting blazes across many states. They also held concerts for the isolated and elderly and friendship picnics with Israeli and Sudanese music and dancing.
Outstanding Mitzvah Day Interfaith Award
Indian Jewish Association (IJA)
Eccles Mosque
Northwood United Synagogue
Garnet Hill Hebrew Congregation
Spanish and Portuguese Holland Park
Winner: Northwood United Synagogue
Over 50 members of this small but vibrant community were involved in a trio of activities that marked a revitalised Mitzvah Day and a bringing together of volunteers of all ages and backgrounds. They made gift packs for the needy via Small Acts of Kindness (an outreach programme for isolated and lonely elderly people in Hertfordshire). They donated and distributed food and goodie packs for the Manna Food Bank in Watford, and a team of volunteers helped out at the Oasis Lunch Club for the homeless organised by the Elim Pentecostal Church in Watford with whom the synagogue has now struck up a close and enduring relationship.
Mitzvah Day Going Greener Award
Dublin Jewish Progressive Congregation
The Friends of Harrow Weald
Kingston Liberal Synagogue
Kol Nefesh Masorti Synagogue
Winchester – W Carver Active Group
Winner: The Friends of Harrow Weald
New to Mitzvah Day this year, Friends of Harrow Weald were originally formed from a group of local residents that wanted to take responsibility for the upkeep and transformation of their local park. For their Mitzvah Day project, they welcomed local residents, members of Edgware and Hendon Reform Synagogue, Harrow Weald Brownies and council members, who together with their existing volunteers planted hundreds of bulbs, made a start on planting the new orchard, cleared overgrown areas and paths and picked up litter.
Outstanding Mitzvah Day Award
Mill Hill United Synagogue
Golders Green Synagogue
St Albans Masorti Synagogue (SAMS)
Newcastle United Hebrew Congregation
Jewish West Midlands
Winner: Newcastle United Hebrew Congregation
On Mitzvah Day members of the United Hebrew Congregation of Newcastle, Newcastle Reform Synagogue and representatives from the Anglican, Methodist and Catholic Churches, assisted by Northumbria Police Officers, helped fill and wrap over 200 festive shoe boxes for the homeless charity Changing Lives. Members of UHC also knitted squares to make blankets for a homeless centre, stitched together by Irene Gatoff, aged 100, and 96-year-old Sybil Vyner made three fabulous baby blankets. A van load of coats, shoes, boots, sweaters, bedding, suitcases and rucksacks was collected by a local refugee charity, and over 40 bin bags full of clothing were collected along with several large boxes of household goods for St. Oswald's Hospice charity shop. The Community Kosher Facility collected canned and dried foods for the local Food Bank.  The Community also made shifts to becoming greener by moving to compostable coffee and water cups and ensuring the City Council supplied recycling bins for the first time to the United Hebrew Congregation.
Congratulations go to the Winners and to all of the finalists.
2018 Mitzvah Day Awards
The Mitzvah Day 10th Anniversary Celebration and 2018 Awards, held in partnership with the Jewish Chronicle, was a huge success, and we are incredibly grateful to all those who attended and brought with them donations of baby goods for our chosen charity Little Village.
Compared by the entertaining and engaging Nick Ferrari, we were delighted to not only recognise some of the incredible projects that took place all over the world in 2018, but to also look back and reflect on the many successes of the past ten years.
Voting closed at midnight on Monday 4th of February  with over 1500 people casting their vote for their favourite in each category. The final result of the vote was as follows:-
Outstanding Mitzvah Day 2018 – Winner – Village of Hawkshead
For the community or organisation with the most impressive project, social action or other achievement that took place on Mitzvah Day 2018 – presented by Barry Toberman, Associate Editor for The Jewish Chronicle 
Hawkshead in Cumbria hosted one of the most ambitious and unusual Mitzvah Days. Residents and businesses came together to bus 160 Syrian refugees to the village for a day of fun and food. Twenty family friendly events took place, including bell ringing, hill walking, chocolate workshops, a showing of Paddington 2 with Arabic subtitles and a cruise on Lake Windermere. Refugees taught the Cumbrians Arabic dance, cooked for the local community and attended a village tea. People "blink back tears" as they recall seeing refugees reunite in Hawkshead's village square, having last met in refugee camps.
Congratulations to our other finalists: Borehamwood & Elstree Synagogue / Mill Hill United Synagogue / Peterborough Liberal Jewish Community / Mensch South Africa
Mitzvah Day International Award – Winner – Neder Barcelona
For the most impressive project, social action or other achievement taking place outside of the UK – presented by Liubov Kantor on behalf of the Kantor Foundation
Three years ago, Neder (a group of Jewish women from various communities in Barcelona) decided to launch Mitzvah Day Barcelona and their activities have grown from strength to strength.This year's projects included: a cemetery clean up; a blood drive; a plug collection for use in research for rare genetic diseases; collectathons of personal hygiene products and medicines in partnership with the Jewish communities of Venezuela and Caracas and a youth visit to a school for children with physical and learning disabilities.
Congratulations to our other finalists: The Jewish Council of North Central Florida  / ASYV Village Rwanda / JCC Krakow / Mitzvah Day Australia
Mitzvah Day 365 Award – Winner –Bushey Gives Back 
For the community or organisation that impresses with social action and or building relationships all year round – presented by Raymond Simonson, CEO of JW3
At the end of Mitzvah Day 2016 as the tired gardeners returned home, the bakers delivered their cakes, and the kids tidied their arts and crafts, a small group of regulars and newcomers to Bushey Synagogue decided they wanted to help others more than just once a year. Thus 'Bushey Gives Back' was born. For 365 days a year Bushey does something for someone. Whether it's Frying in February, Singing in September or Donating in December, the group help hundreds of people, from those without a home to those in a care home. Just a few volunteers, yet so much achieved!
Congratulations to our other finalists:  Harlow Jewish Community Cheder / Woodford Forest United Synagogue Drop-in For Asylum Seeker Families / Alyth Synagogue Aleppo Supper Club / Stanmore & Canons Park United Synagogue – Yad B' Yad
Outstanding Interfaith Partnership – Winner –The Friendship Circle, Manchester
For the best collaborative project between Jews and another faith group/s, with an emphasis on bringing people of different faiths together – presented by Julie Siddiqi. Founder and Director of Sadaqa Day and Co-Chair of Nisa Nashim
Working alongside people with disabilities, The Friendship Circle brought many parts of the Manchester Jewish community together with their local Muslim community and a Sikh group, to collect masses of supplies for the local homeless, make care packs for them, and hand out hot food together on the streets of Manchester.
Congratulations to our other finalists: South Manchester Synagogue (Bowdon Shul) / #ChickenSoupChallenge at East London Mosque / Muswell Hill Synagogue and LICC Wightman Road Mosque / Caritas Westminster 
Outstanding Youth Achievement – Winner – Akiva School
For the best Mitzvah Day run by a school, college, cheder, youth club or any other group of under 21-year-olds – presented by Rebecca Lewis, representing UJS
Every year Akiva commits wholeheartedly on Mitzvah Day for a range of causes. In 2018, students at the school created special sensory Chanukah cards for the children ALEH support, in Israel. They also learnt about living with disabilities, and students highlighted and explored what people can achieve despite their impairments.
Congratulations to our other finalists: Meir's 10th Birthday Party / LJY-Netzer / Henrietta Barnett School / South Hampstead High School
Following the publicly voted for awards, Mitzvah Day took the opportunity to acknowledge two outstanding individuals whose contributions towards Mitzvah Day have been absolutely invaluable. 
The first of these was presented by Nicky Goldman, Chief Executive of JVN, the Jewish Volunteering Network to Abigail Mann in recognition of an individual who has gone above and beyond for Mitzvah Day 2018.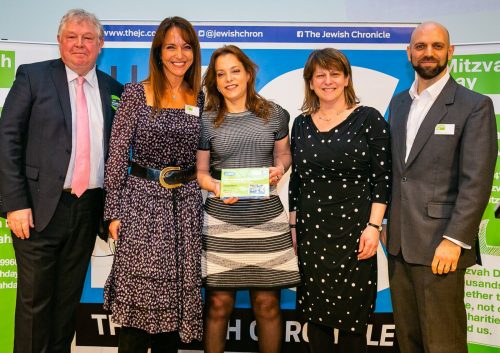 Abigail Mann's passion for fairness and equality has lead her to spearheading ambitious, numerous and important projects, bringing the entire village of Hawkshead, Cumbria, into Mitzvah Day. Balancing a tremendous workload and her family commitments, she has worked tirelessly throughout the year to  lead 24 amazing projects for the benefit of 160 Syrian refugees.
The second was presented by Trustee Lady Daniela Pears to Nick Grant to recognise someone who has embraced the values of Mitzvah Day from our earliest years. This individual has shown incredible diligence and commitment to his projects, and in doing so he has brought his entire community together year on year, to make Mitzvah Day part of their calendar.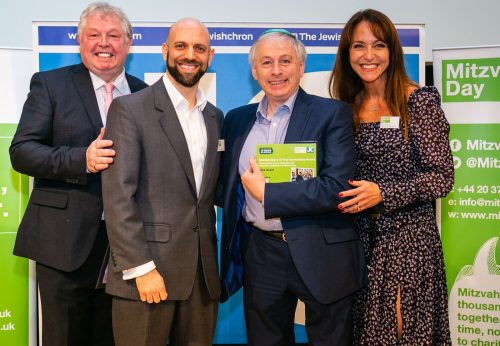 Nick Grant has been participating in Mitzvah Day since 2009, and his background in project management has stood him in good stead as he has steadily developed more and more projects for the diverse community of St Albans Masorti Synagogue. And now, thanks to Nick's boundless enthusiasm, over 200 of their members are actively involved in Mitzvah Day projects.
Finally, to celebrate Mitzvah Day's 10 Year Anniversary, there was a surprise presentation by Lady Daniela Pears, to our Founder and Chair Laura Marks OBE.
To thank Laura for setting up Mitzvah Day, and for building it into what it is today, Daniela and the Trustees came together to present her with a special Award, and a framed letter of recognition and thanks from Chief Rabbi Ephraim Mirvis. They had even organised a personal video message from Home Secretary Sajid Javid, which was played on the evening, to thank Laura for her truly inspiring and impactful work.
The presentation to Laura brought a close to what was a fantastic and meaningful celebration, recognising individuals and projects that have really stood out to help important local causes around the world. Thank you everyone for coming, and here's to the next 10 Years!