Prime Minister and party leaders show support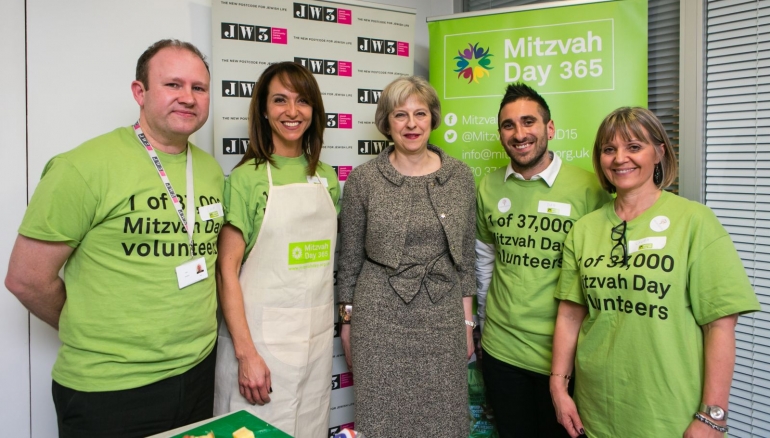 Category: Uncatagorised
Britain's Prime Minister Theresa May has pledged her support for Mitzvah Day, the UK's biggest faith-based day of social action which takes place on, and around, Sunday November 19.
More than 40,000 volunteers from all around the world will take part this year, with Jewish communities, schools, offices and organisations partnering with Muslims, Christians, Hindus, Sikhs and those of all, and no, faiths to give their time, rather than their money, to make a difference to the community around them.
This year's Mitzvah Day has a theme based on the Jewish value of L'Dor Vador: From Generation to Generation and will feature projects to help the homeless, elderly, disabled, refugees and some of the most vulnerable in British society.
Theresa May, Prime Minister and Leader of the Conservative Party, said: "Mitzvah Day is a special time when thousands of people, of different faiths and no faith, come together to help others and do something positive for their local community. 
"I'd like to wish all those taking part in this year's initiative, From Generation to Generation, a very happy Mitzvah Day."
Scotland's First Minister, and SNP Leader, Nicola Sturgeon also pledged her support, saying: "Scotland is at its strongest when we are a nation that celebrates diversity.
"Mitzvah Day is an excellent example of how people from all walks of life come together and show how easy it is to put Jewish values into action for the benefit of all communities."
Jeremy Corbyn, Leader of the Labour Opposition, and Vince Cable, Leader of the Liberal Democrats, are also both long-term supporters of Mitzvah Day.
Jeremy Corby said: "I am delighted to support Mitzvah Day. Bringing communities together in this way shows how the Jewish values of solidarity, compassion and social justice help shape a better, stronger society."
Vince Cable said: "I warmly welcome the spirit of Mitzvah Day, which fosters interfaith and cross community relations, highlighting our collective capacity to shape and direct change within our local communities. Days like this also illustrate that, irrespective of our background, faith or belief, we each have a responsibility to one another.
"This year's theme of L'Dor Vador is an important principle that reminds us all that it is our duty to teach future generations to be compassionate and selfless. My thanks to the thousands of volunteers who are donating their time and energy to reach out to the vulnerable and disadvantaged this year."