Political leaders praise 'inspirational' MD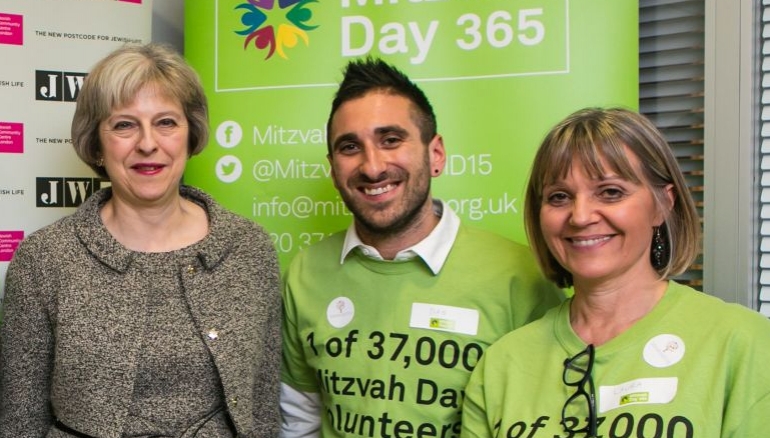 Category: Uncatagorised
Britain's Prime Minister Theresa May, Scotland's First Minister Nicola Sturgeon, Leader of the Opposition Jeremy Corbyn and Liberal Democrat leader Tim Farron have given their support to the 40,000 volunteers who will take part in Mitzvah Day – the UK's biggest faith-based day of social action.
Mitzvah Day takes place on, and around, Sunday November 27. Jewish-led, it will see Britain's Jewish community come together with their Muslim, Christian, Hindu, Sikh and Buddhist neighbours – as well as those of other, and no, faith – to help their local communities. Projects will include collectathons, cooking, present wrapping, tea parties and much more to support refugees and asylum seekers, as well as the homeless, disabled people, older people and the most vulnerable in society.
Prime Minister Theresa May said: "On Mitzvah Day we see what makes our Jewish communities so special, as thousands of volunteers lead projects bringing together people of other faiths and those of none.
"Working side by side, these volunteers build bridges, challenge stereotypes and make a real difference to the communities around them. I wish everyone taking part in the UK and around the world a very happy and successful Mitzvah Day."
First Minister Nicola Sturgeon said: "The Jewish values of tikkun olam, gemilut hasadim and tzedek are evident when faith groups work together with one voice to show support during humanitarian crises across the world. Our on-going engagement with faith groups, including the Jewish community, is vital in building a safer, stronger and more equal Scotland where our diverse communities can flourish and their contributions are celebrated.
"Mitzvah Day is an excellent example of how people from all walks of life come together and show how easy it is to put Jewish values into action for the benefit of all communities."
Leader of the Opposition Jeremy Corbyn and Mayor of London Sadiq Khan have also given their support and encouragement.
Jeremy Corbyn said: "Mitzvah Day is a beautiful example of Jewish values in action. This day of social action brings communities together, builds a stronger society and inspires us all. I'm proud to support it."
Liberal Democrat Leader Tim Farron is a long-term supporter of Mitzvah Day. He said: "I'd like to congratulate the Jewish community and Mitzvah Day on once again seeking to engage people from across all faiths and religions in giving something back to their communities.
"Mitzvah Day brings people together and many of its projects seem to me to make a real difference to people lives whether its painting a homeless shelter or enabling children to sing for older people. I wish everyone of the 40,000 Mitzvah Day volunteers a very successful day and hope Mitzvah Day will continue to provide an inspiration for us all."