Goods for Good – Crayon Appeal
Category: Cards and Crafts
GOODS FOR GOOD (GLOBAL) is a UK registered charity that donates private sector overstock and community donations of goods to registered charities worldwide. Its mission is to lessen the burden of poverty and suffering by providing donated goods to organisations that request support (and also in the event of an international disaster) and where specific goods have been requested. The charity is a member of a group of charities in Europe, who are also experts in international relief delivery.
The Project
This project can be run remotely from any location – all you have to do is deliver direct to our depot in Borehamwood. We will be collecting school stationery for refugee camps in Kurdistan (where we regularly send clothing, shoes, blankets, and medicines, too).
The reason why the ask is small, (and only for stationery listed below) is that our premises and capacity is very small and we can't absorb large quantities at one time. 
This is what we are asking for (donated stationery should be new, and can be given from goods already found at home by children):
Felt tips
Crayons (pencils & wax)
Drawing pencils
Drawing & colouring books
Arts and crafts materials (new packets only)
Erasers & rulers
Markers and highlighters
Exercise books and paper
Children in the refugee camps have little to play with apart from the mud and stones underfoot. They have lost everything.  Thousands are orphans and have witnessed or are victims of terrible atrocities. They have lost their possessions, their loved ones.  We deliver hope and dignity to them.  
Activity!
Send greetings from your community to the refugees!
We want you to design a card for the refugee children receiving your stationery.
It should include a picture of a Goods For Good truck delivering goods.
Write a message from you to your new friend.
We will send your card with a box of stationery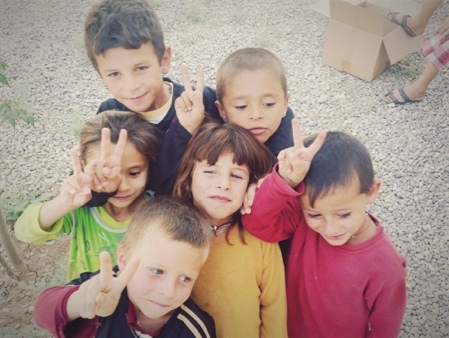 You may like to see the clip of film sent to us by our charity partners on the ground Bring Hope.  https://drive.google.com/open?id=0B0OfeIMZYblnUko0Q1ZCb2R1cEE and can download all the information about this project by clicking here.
Our own trustee, Max Veenstra, is also a trustee of the charity Bring Hope and therefore we are affiliated and working closely together.
Please arrange to post your items to our Borehamwood address or to arrange an appointment to deliver to us in person please call Mia  on 07785800500. Unfortunately we are not able to arrange collections. Last year, we had a constant stream of stationery arriving in the mail for about 2 months. It was amazing and really made a huge difference to so many children! 
Goods For Good
Unit 4 Delta House,
Delta Court,
Manor Way,
Borehamwood,
WD6 1FJ
For more information email: Mia@goodsforgood.org.uk