Make a Challah Cover for the Belarus Communities
Category: All
The communities in Belarus are unable to access Judaica.
Belarus is a country in eastern Europe, located between Poland to the west and Russia to the east.
Belarus is a young country, which became independent of the Soviet Union as recently as 1991. During the seventy years of Soviet rule, the state exercised total control over, and intrusion into, every aspect of an individual's life. The authorities applied divide-and-rule tactics. They encouraged people to report each other for crimes (real and invented), leading to widespread mistrust and the destruction of community life.
Before the Soviet era, Jews in the Russian Empire were required to live in the so-called Pale of Settlement (modern Belarus, Ukraine and the Baltic states), and they constituted about one quarter of the population of Belarus. After the invasion of the USSR by Nazi Germany in 1941, Belarus became the front line and its Jewish population was all but wiped out. The Minsk Ghetto, notorious throughout Europe for its inhuman living conditions, was destroyed and its inhabitants murdered, while death camps in Belarus became the testing grounds for Zyklon-B, the toxic gas used widely to exterminate Jews across Europe. The few survivors – some of whom had escaped to Jewish partisan brigades in the forests of northern Belarus – continued to suffer after the war due to discrimination and the prohibition by law of religious (including Jewish) practice.
Belarus was badly affected by the explosion of the Chernobyl nuclear plant in 1986. Large areas of land were contaminated, and their populations continue to suffer from illnesses and disabilities caused by radiation exposure.
Since 1991, community life has slowly begun to recover.  The Together Plan works closely with communities in the former Soviet Union, currently focusing on Belarus, to help those communities learn how to exercise control over their own futures
The Together Plan would love for UK groups to make challah covers which will be given out with a printed copy of the blessing in Hebrew and Russian transliteration . 
To make a Challah Cover you'll need: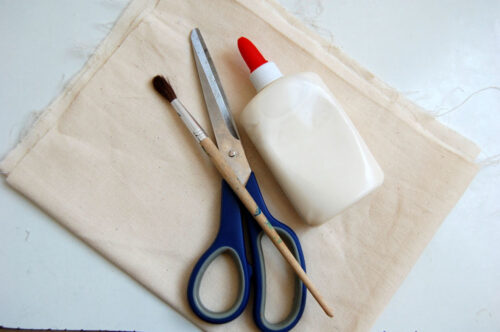 Heavy cotton fabric or light canvas cut to approximately 16×20 inches
White glue
Craft paint in a range of colors
Open garbage bag or heavy stock paper to lay under your fabric for gluing and painting
Pencil Small bowls or empty yogurt containers
1. Begin to sketch out your design with pencil directly onto the fabric. You may want to add "Shabbat" in Hebrew or your own pattern. *For younger children, complete this step and the next on your own and hand over the project to them at Step 3. Older children might be able to draw the pattern but require some help in in Step 2.
2. Trace all your pencil lines with a heavy line of glue. As the glue dries it will become thinner, so make sure your glue line is solid enough to clearly mark any design you will want in your final product. Allow glue to dry overnight or set aside until completely dry, then continue to next step.
3. Pour quarter sized dollops of paint into empty yogurt containers or other small bowls, and water down and mix until the paint is entirely dissolved. Your paint will dry a few shades lighter so plan to mix colors a few shades darker. (You're basically making your own watercolors.)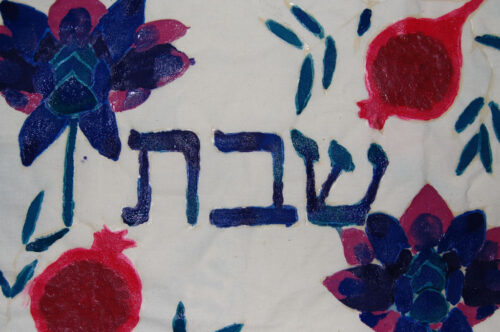 4. Be sure your garbage bag or craft paper is under your fabric, and begin to paint. Paint directly on your fabric allowing the colors to spread over the glue pattern you prepared the day before. The paint will behave like watercolors so expect your colors to blend into the fabric and spread. Remember to protect clothing and furniture as this will stain.
5. When satisfied with the painting, set aside to dry completely. When your entire cover is dry to the touch, you can put it into a mixing bowl of warm water to dissolve the glue. Help your children to peel off the glue either with their nails or a small nail brush. Return to warm water if needed and continue the peeling until all glue is removed.
6. Allow your Challah cover to dry. If you'd like, you can sew a backing on the cover or trim in ribbon for a finished edge.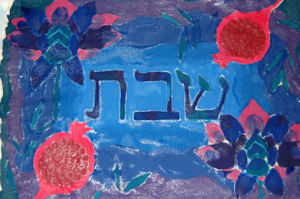 *This project is adaptable for all age groups and skill levels. Also note that this project requires lots of drying time, so plan for patience.
Once you have completed your covers please contact Debra Brunner to organise the delivery of your covers- london@thetogetherplan.com
To find out more about the Together Plan, click here to visit their website