PJ Library Mitzvah Day Bingo
Category: Arts and Crafts
On Sunday 15th November families around the UK will be giving their time and effort to make a difference to the community around us.
This year PJ Library has partnered with Mitzvah Day to create a brilliant mitzvah-themed bingo packed with ways to get involved in social action projects at home. We might not be able to visit local charities in person, but we hope the project ideas will encourage you and your family to address real needs from the comfort of your kitchen table. Your child's kind acts could lead to longstanding, genuine relationships with organisations that really need your help. What are you waiting for? Let's get started!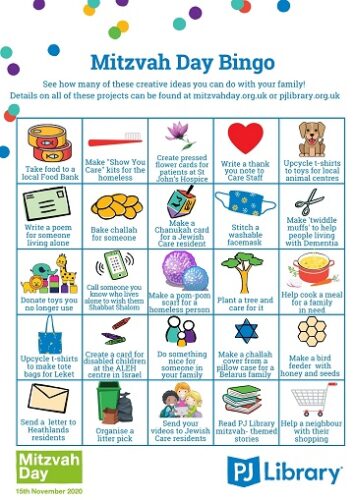 Mitzvah projects include a wide variety of art and crafts activities such as making cards for children in hospital or residents in a care home, eco-projects including tree planting and litter pick-ups and collection projects for local food banks or donating gently used toys. Perhaps you could get involved in cooking projects and make food to be donated to night shelters and refuge centres. There are suggestions for upcycling t-shirts into tote bags for food or dog toys for animal rescue centres and care projects by making and distributing essential supplies to rough sleepers. How many of these creative ideas can you do with your family?
Click here to visit PJ Library to download your large scale, printable bingo card.