Lobby your MP or craft a sign to end persecution of Uyghur Muslims.
Category: Spread The Word
Uyghur Muslims are being rounded up and interned in 're-education' camps in Xinjiang province, China. There is overwhelming evidence that starvation, torture, slave labour, rape, forced abortion, sterilisation and organ harvesting is taking place in these camps. Uyghur Muslims are having their hair cut off and forced to drink alcohol and eat pork, solely because of who they are.
The persecution of the Uyghurs because of their ethnic and religious identity serves as a chilling reminder of the horrors committed against the Jews in the Holocaust. We cannot stand idly by when we see persecution reminiscent of the worst crime of man against man. We have a unique moral responsibility to see it how it is: concentration camps, religious persecution and genocide. Never again is now.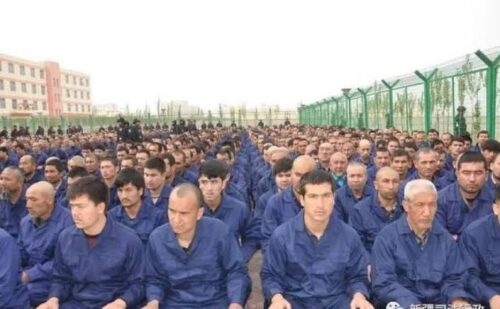 You can take action to bring an end to this persecution. By raising awareness and lobbying parliamentarians, we can pressure the UK government to take action against the Chinese government. By clicking here, you can download a step by step guide for writing to your MP to ask that they take the pledge to end persecution of Uyghur Muslims. By promising to push fellow parliamentarians and ministers on 6 specific demands, your MP can bring about government sanctions, boycotts, tribunals and UN investigations. But they need to be pushed to do so.
Click here to read, copy and paste the full pledge.
Let them know that we will not stand for baseless hatred, intolerance and cruelty.
Take a photo of your letter or email and post it on social media with the hashtag #StopUyghurGenocide #EveryMitzvahMatters @MD20 @ReneCassin
You can also create an arts and craft sign to raise awareness about the situation. Find a poster-sized piece of paper or card which will fit in your window or by the side of your home. Write a short, sharp slogan such as 'Stop Uyghur Genocide'. Use striking colours and thick pen so that passers-by will see that you stand in solidarity with Uyghur Muslims. The more people know about what is happening, the more likely politicians will take a stand. Take a photo of your sign and post it on social media to reach as many people as possible.
René Cassin is a charity working to promote and protect universal human rights, drawing on Jewish experience and values.
We achieve this by campaigning for change in defined human rights areas – through a combination of advocacy, policy analysis, public campaigning and education and building the capacity of activists to promote and protect human rights.
Please feel free to contact Moses Seitler (moses.seitler@renecassin.org) for more information
Our social media channels: Instagram (rene.cassin) Twitter (rene_cassin) Facebook (Rene Cassin) Website: www.renecassin.org