Support Barnabus – Manchester
Category: Collectathon
Barnabus is a frontline Manchester Christian Homeless Charity providing a lifeline to rough sleepers and people with lived experience of homelessness for over 25 years. Last year we supported 2,348 men and women 66% of those were rough sleeping.
We provide practical help and support including food, clothing, showers and healthcare. We also offer a wide range of creative and inspiring skill focused activities including volunteering and peermentoring opportunities to help increase confidence and skills. Our support team offer personalised one to one support with multiple pathways for accommodation, rehabilitation and employment thanks to our partnerships, connections and corporate supporters.
We do this through our Drop-in, Support Office, Health and Wellbeing Suite, Street Outreach, Joint Allotment Project and RENU Up-cycling furniture enterprise. With your help we can provide hope, dignity and encouragement to empower people with lived experience of homelessness so that they can improve and rebuild their lives and take hold of their hopes and dreams for the future.
We're passionate about ending homelessness in our City. We hope you will support our work and be part of the solution to bring transforming change.
CURRENT DONATION LIST
Please donate the following pre-loved or new items, every donation you give provides hope and dignity for our friends  experiencing homelessness in Manchester.
Food
Long life milk, coffee, sugar, cordial, cereal bars, cereal, jam, marmelade, peanut butter, supernoodles, pot noodles, biscuits, chocolate, crisps | tinned foods: beans, tomatoes, spaghetti hoops, hot dogs, vegetables, soups, rice pudding, corned beef, stewing steak.
Men and women's clothing
Jeans, joggers, combats, trackies, hoodies, jumpers, fleeces,
sweat-shirts, t-shirts | boots, trainers | coats, anoraks, jackets.
Other essentials
Shower gel, shampoo, shaving foam, disposable razors, deodorant (roll- ons only), bin bags, washing up liquid.
Fashion Items
We can take in quality pre-loved items to sell on our online shop to help raise funds.
We can receive your donations at our office:
Barnabus, 61 Bloom Street, Manchester M1 3LY Monday – Friday between 10am – 4pm.
If you have a large number of items (more than a car) or you are unable to drop off during office hours, please call 0161 237 3223 or email admin@barnabusmanchester.co.uk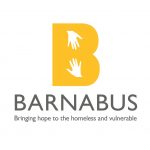 www.barnabus-manchester.org.uk