Put on your Wellies – How to run an Environmental Project
The strong therapeutic value of gardening can help people connect with others, reducing feelings of isolation. 88% of people find that their mental well being benefits from spending time in the garden.
Put on Your Wellies not only makes us happy and healthy, it also helps to improve the local environment. Perfect for all age groups and Interfaith projects, you can help out on a local farm, clean up a cemetery, a park, an outdoor area of a Care home, plant trees, clean waterways and organise litter picks. 
If you are planning an Interfaith planting project, our planting guide can help you find the perfect plants to choose.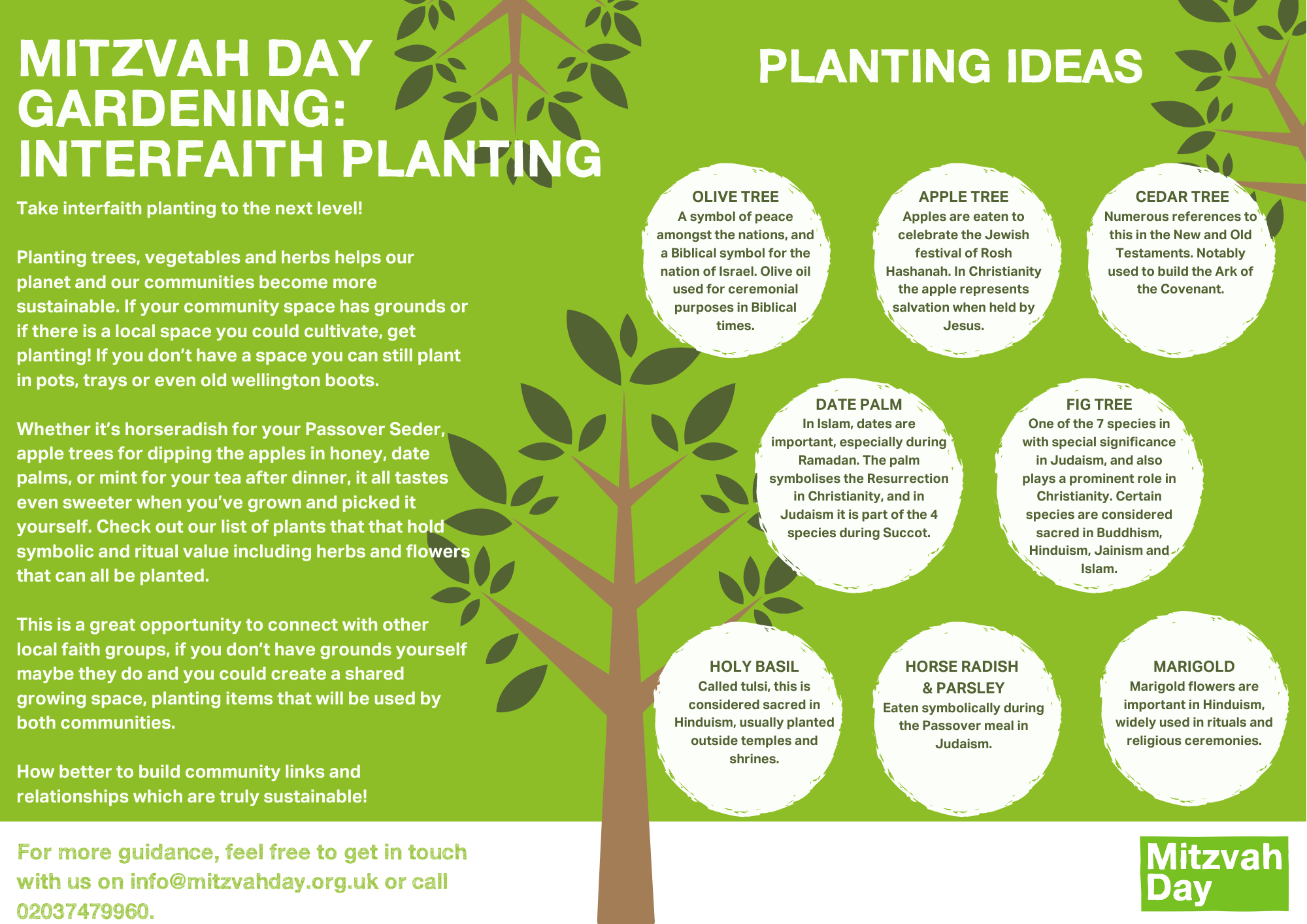 Before Mitzvah Day
Find a Put on Your Wellies Project
Have a look on Mitzvah Day's Available Projects page for ideas, or look at volunteer opportunities on your local council's website, or on sites such as www.btcv.org.uk or www.capitalgrowth.org/spaces
Information
It is important to contact a charity, or your local council well in advance to find out exactly what they need doing, how long it would take, how many people are needed, any particular skills required, who will be supplying the materials/expertise if appropriate and timings, insurance and health and safety requirements.
Team
Organise a team of volunteers, and make sure that they have clear instructions as to what is required, along with the right equipment and clothing to do the job effectively. If needed, try to get the materials through donations from your local shops. Ensure your volunteers are all able to get to the location on time.
On Mitzvah Day
Team
Make sure that all your team members arrive on time wearing Mitzvah Day Merchandise, and are aware of what needs to be done. Make sure your team leader has the contact details for someone at the charity or council if appropriate. After the project, please ensure that all waste is disposed of appropriately and that the site is cleared.
Inform
Thank your volunteers, the charity/council and any donors and encourage them to get involved in the future with environmental projects.
Send Mitzvah Day some before, during and after high resolution photos and do remember to share them on social media, tagging Mitzvah Day @mitzvahday and use the hashtag #mitzvahday and let us know about your successful Mitzvah Day Put on your Wellies Project!