A real family affair at Sidney Corob House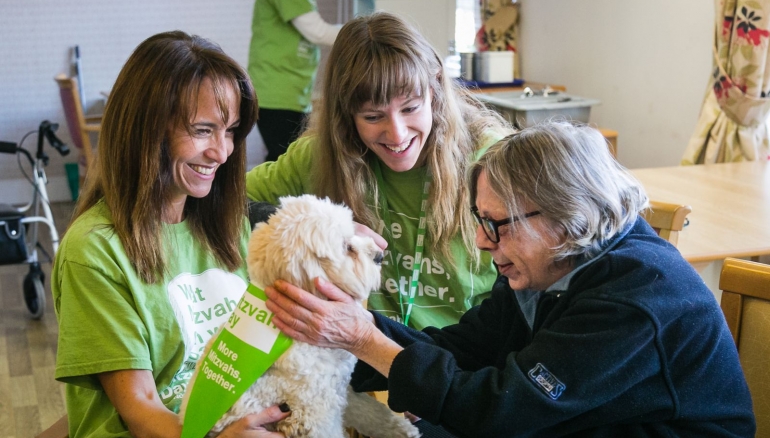 Category: Uncatagorised
Mitzvah Day staff were joined by their families to host a special coffee morning at Jewish Care's Sidney Corob House, residential care home for people with mental health needs.
Mitzvah Day 2017 takes place on, and around, Sunday November 19 and has a theme based on the Jewish value of L'Dor Vador: From Generation to Generation.
To get in the spirit a team of trustees and staff from Mitzvah Day put on their own early project, with a strong intergenerational theme.
Founder and Chair Laura Marks was joined by her daughter Sally and mum Shirley, Executive Director Dan Rickman volunteered alongside his mum Jacqui and grandma Barbara, and Interfaith Chair Daniela Pears was accompanied by her daughter Sabrina and their pet dog Ruby (pictured with resident Leah).
Laura said: "The Jewish family and community have always been exemplars of giving – and this year, on Mitzvah Day, we are celebrating generations making a difference, together.
"My mum was a GP and a magistrate and still volunteers every week. My daughter is a prolific giver of her time as a student activist, leading interfaith, Jewish and wider community projects to drive change.
"In our family, we joke about where Sally gets her zeal for volunteering – but we only have to look to her grandma and, I guess, her mum. "
Daniela added: "We bring our kids up with the ethos of helping others as part of our lifestyle and inadvertently hope they 'get it'. Doing Mitzvah Day projects like this together is special and shows that they do.
"The biggest hit of all was Ruby, our special Mitzvah Day dog. Everyone at Sidney Corob House loved playing with her – so much so that we ended up staying on for a game of fetch."
Sidney Corob House, in Hampstead, is a Jewish Care residential home, offering a warm and therapeutic environment for adults with mental health needs. Residents are supported 24 hours a day by fully trained and qualified care staff. They give much-needed time and ongoing support to help those finding it difficult to cope in the community as well as rehabilitative care to help individuals to regain their stability, confidence and life skills before returning to the community. Mitzvah Day staff volunteer at Jewish Care's Sidney Corob House each month.
Mitzvah Day Executive Director Dan Rickman said: "We have really got to know the residents over the last year, so it was certainly rewarding to be joined by the family members we have told them so much about.
 "A love of family is something that runs through all faiths, so I'm looking forward to seeing many projects such as this up and down the UK on November 19."
Click here to view a wonderful slideshow of pictures from the day.