Volunteers brave cold for Tu Bishvat projects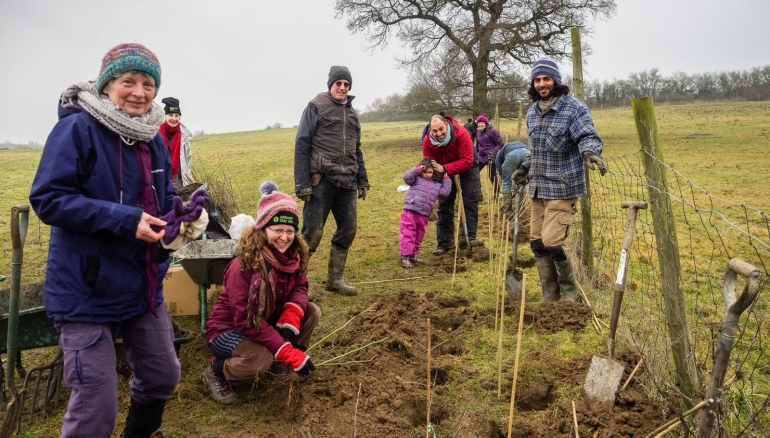 Category: Uncatagorised
Special Mitzvah Day projects for Tu Bishvat took place in Hertfordshire, Oxford and York as volunteers tidied and cleared forests and commons in the spirit of the festival.
Oxford Jewish Congregation (OJC) beat the cold weather to work in the fields of Willowbrook Farm, a Muslim owned organic smallholding, planting a hedge of hawthorn and other species with some local Muslim families. The project was organised together with MADE (Muslim Action for Development and Environment).
A small group from OJC also chopped two massive tubs of fruit salad for The Porch Day Centre in East Oxford, which offers services to local homeless and vulnerable people.
In Hertfordshire, Northwood & Pinner Liberal Synagogue members, including Rabbi Aaron Goldstein, braved bitter sleet and wicked thorns to support the Friends of Croxley Common Moor clearing scrub and tidying the common.
A very muddy Rabbi Goldstein said: "It is sometimes difficult to make the connection to first buds on the almond trees in the Land of Israel, as you're meant to on Tu Bishvat, with such inclement weather.
"But making a difference to our local environment does, however, seem a fitting way to acknowledge that connection and also reinforce the Mitzvah Day message that we can be doing good 365 days of the year."
At York Liberal Jewish Community, members planted trees in West Bank Park, York, with other faiths. They also presented trees to the Arc Light hostel for homeless people and Carecent, an organisation that provides hot breakfasts for the homeless.
Mitzvah Day's executive director Dan Rickman said: "In what has been a slightly tumultuous start to 2017, filled with darkness and fear, we have used Tu Bishvat as a great opportunity for our coordinators to revisit or find brand new opportunities to engage with the environment, as our first Mitzvah Day 365 project of the year."