Feast – Cooking and dining with homeless adults
Category: Cooking
Bring your creativity into the kitchen and help us transform surplus food into nutritious meals. Both seasoned and novice chefs are welcome!

FEAST With Us provides access to regular meals for people suffering food poverty. Not only are our meals delicious and nutritious, they are made from surplus foods that would otherwise have gone to waste.
In light of the pandemic we have not been able to bring everyone together to cook and eat in the friendly community setting we are used to, but the prevalence of food poverty has increased dramatically and we have changed our programming in order to keep tackling food poverty and food waste. This includes limiting the number of volunteers cooking so social distancing can be carried out, and operating a takeaway/delivery service.
As such, we are always in need of fantastic volunteers to help us collect food donations, cook and deliver meals!
There are plenty of opportunities to get involved as we currently run FEASTs from 5 different venues across London, Monday-Friday.
You can support us by collecting food donations with us:
Edible London (Stamford Hill), on Mondays (2.30pm) and Tuesdays (2.00pm)
Aldi Kilburn on Mondays (9.00am-12.00pm)
M&S Kilburn on Tuesdays (8-9pm)
Gail's Bakery, Belsize Park on Mondays (6.00pm)
You can cook with us:
JW3 Cultural Centre ( 341-351 Finchley Rd, NW3 6ET) 3-5 volunteers, sessions held on Tuesdays, Wednesdays and Thursdays 10-1
Conway House (18-22 Quex Road, Kilburn, NW6 4PL) – 4 volunteers, sessions held on Thursdays 4.30- 7.30pm
Bethany House (13 Lloyd Square, London, WC1X 9AR) – 3 volunteers- sessions held on Wednesdays 4.30-7.30pm
St Pancreas Community Association (67 Plender St, NW1 0LB ), 3 volunteers, sessions held on Fridays, 11-3
Single Homeless Project King's Cross (165 Kings Cross Rd, WC1X 9BN) 2-3 volunteers, sessions held Monday-Friday at 12pm-4pm
Bring: clean plastic containers with matching lids (eg butter tubs / hummus pots), and spices, herbs and condiments of your choice!
Clothing: clean and sensible clothes to cook in; aprons are provided
You can help deliver meals with us by bike or by car:
JW3 Cultural Centre, 3-5 volunteers on Tuesdays (1.00pm)
St Pancreas Community Association, 2-3 volunteers on Fridays (3pm)
To book your volunteering slot please email alyson@feastwithus.org.uk or volunteer@feastwithus.org.uk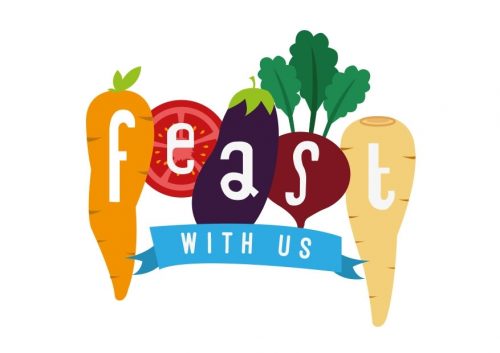 Connect with us:
Instagram: @feastwithusuk