Make pressed flower cards for Patients at St John's Hospice
Category: All
St John's Hospice, an independent charity located within the Hospital of St John and St Elizabeth in St John's Wood, provides specialised palliative care to more than 4,000 terminally-ill patients and their families every year.
The care team have told us that many of those they care for are isolated and living alone, and they are asking for individuals, families and groups to consider making and sending a pressed flower card with a short message, that they can pass onto their service users.
They would also like donations of pressed flowers and in particular dried lavender, which the care team can use for craft projects with the patients and families that they support.
How to press flowers
All you need are a few large books and newsprint or tissue paper to protect the book and to absorb the moisture from the plants.
When you arrange your plants, try to minimize overlapping of the plant parts in order to avoid creasing or folding in your finished product. Remember, how you arrange the plants here is the way they will stay when they are completely dried.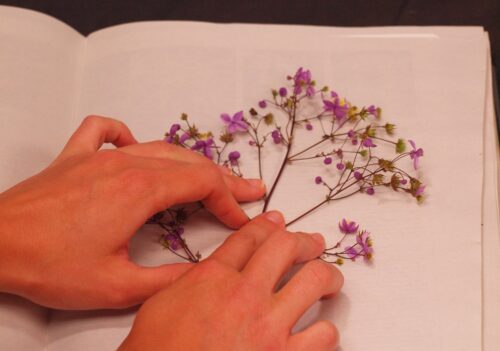 Press the plants in the books, between layers of newsprint, leaving about a quarter to a half inch of pages between each layer. Once all of your material has been pressed, stack some additional books on top and make sure you leave your press in a well-ventilated area to promote faster drying.
After a week or two, the plants will be completely dry (you can test this with your fingernail – if the plant is brittle, it is dry; if it feels like it will bend and fold, it is still wet). Once it is dry, you can remove your plants from the press and start getting creative!
How to make cards
Lay out some Dried flowers, Wax paper, Paint brushes, scissors, tweezers, clear-drying craft glue and any paper that is thicker than standard printer paper.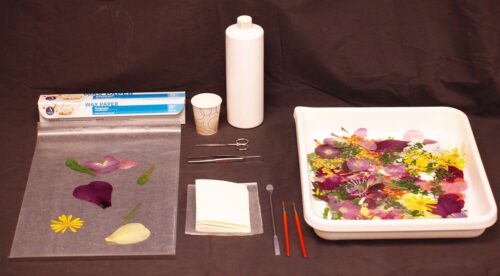 Arrange your plants on the paper before you glue them to get an idea for layout.
Use wax paper to protect your working surface and to keep your plants from sticking to everything except your greeting card!
Use glue sparingly, you won't need as much as you think!
Use tweezers to transfer glued plant material onto your paper.
Once all of your cards are finished, layer the cards with wax paper and let them dry overnight under a heavy book.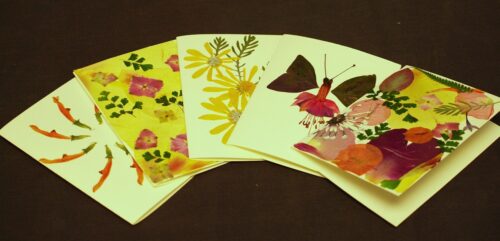 with thanks to https://longwoodgardens.org/blog/2013-07-25/how-press-flowers-create-handmade-greeting-cards
How to Dry Lavender
It is best to pick lavender just before it comes into bloom.
Secure your bunch with an elastic band and leave it to dry hanging upside down. Make sure that air can circulate round it. If its bunched too tightly, you may find it goes mouldy, rather than drying.
Alternatively separate the leaves and blossoms from the stem. Place a small amount of lavender across 2 layers of paper towels or a clean kitchen towel and lay it in the microwave.
Turn on the microwave and let it run on high for about a minute. Check for dryness. If they still feel moist, continue drying with 20-second bursts until completely dry. Keep a close eye as overheating may lead to scorching.
Dried buds can then be kept in zip lock bags or clean and airtight mason jars.
Please contact Sophie Gray, Community Fundraising and Volunteer Coordinator to discuss this project and to arrange for delivery of your  items.
T: 0207 806 4049