Make Twiddle Muffs to help people living with Dementia
Category: Arts and Crafts
'Twiddle muffs' are a knitted or crocheted band with items attached that patients living with the advanced stages of dementia can twiddle in their hands during their hospital stay. They help provide stimulation  and we've found they are invaluable to our patients as people with dementia can hold and 'twiddle' to help any restlessness and agitation that they might experience. 
The Royal Free Hospital and Barnet Hospital are appealing to creative people to provide these for their patients living with Dementia.
Knitted items such as these give patients something to focus on by giving them something to do with their hands, and have proven to make a significant difference to stress levels. They are extremely popular, and they always need more!
There are a huge variety of available patterns on line but below are two fairly easy ones to follow.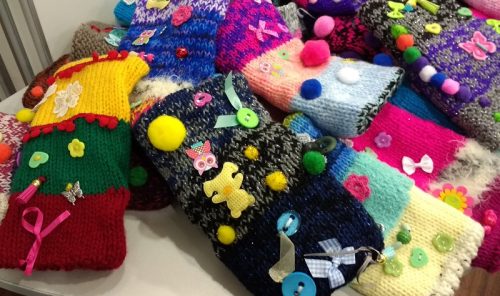 Twiddle Muff Knitting pattern:
1. Materials
This pattern is perfect for using up left over and odd balls of wool
• Needles: 8 mm circular or 6.5 mm straight needles
2. Directions
• Cuff: Cast on 45 stitches using 2 strands of double knitting wool or 1 strand of chunky wool (one plain colour works best)
• Work in stocking stitch (knit a row, purl a row) for 11 inches
• Body: Continue with stocking stitch, but use up oddments of various textures of wool such as chunky, mohair, ribbon etc. until the work measures 23 inches (two strands of double knit for two rows each gives a lovely assortment of colours)
3. Finishing
• If working with straight needles, lightly iron the long strip, then neatly join the sides together using edge to edge stitch (with the knit side facing out)
• Turn inside out and push the one-colour cuff up inside the  body
• Sew the two ends together, again using a neat edge to edge stitch
4. Decoration
• Now is the time to decorate the muff, inside and out, with ribbons, beads, flowers, zips, loops, pompoms, buttons etc.
• You could even knit a separate pocket for a favourite photo or a hanky
• Be creative, but make sure each item is securely attached
• If there could please be a loop on the muff at the top so a patient identification band could be attached to it, it would be greatly appreciated
Crochet Twiddle Muff Pattern
It's simple to crochet a Twiddle Muff – you need a tube that measures approximately 40cm long and 20 cm wide when laid flat (large enough to fit both hands inside comfortably). Depending on the weight of yarn you're using, chain stitches that measure around 40 cm.
The best Twiddle Muff has a variety of textures, so you should vary the stitches you use, and use a range of yarns and colours. You could also work a series of bobbles, or add beads to your yarn.
You don't need to weave in the ends when you change yarn, as the yarn ends can also be fiddled with. Attach a range of buttons, ribbons and patches – it's a great way to use up any swatches you have from previous projects.
Once you've added decorations, fold the fabric in half and sew together, to make the tube.
If there could please be a loop on the mitt at the top so a patient identification band could be attached to it, it would be greatly appreciated.
If you would like any more details or to arrange to drop your knitted items at the hospital please contact
Doris Ajayi
Clinical Skills Facilitator- Dementia Care
Royal Free London NHS Foundation Trust
Tel : 0208 216 4270
Email : doris.ajayi@nhs.net