Reach out in Hertfordshire
Category: Befriending
Do you have a spare hour a week to help someone like Albert?
Reach Out is a project that provides companionship and practical support to older people who are medically vulnerable and at risk of hospital admission, or have recently been discharged from hospital. Reach Out can assist people by linking them up with a volunteer in their neighbourhood who can offer support to them in their own home – helping them to adjust to and recover from illness, whilst also reducing social isolation and loneliness.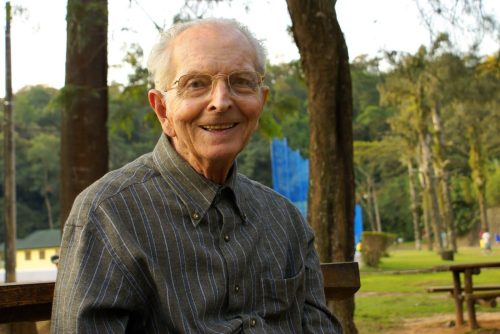 © Photo by Marcelo Mokrejs
*Albert was discharged from hospital after having a fall at home which led to him needing surgery. He was housebound during the pandemic as he was shielding, but he also needed time at home to recover from the surgery. Albert lived alone and was becoming depressed due to feeling so isolated. He had previously been very active and would go for a walk in his local park every day to stretch his legs and would regularly wander into town to have a coffee and pick up his daily paper. Since his fall, the only people he saw were the people dropping off his community meal once a day.
We introduced Albert to Reach Out volunteer *Chris to help by calling Albert for a chat and keeping Albert posted on what was going on in the local area. He was able to help Albert to set up a regular telephone order for his weekly shopping items with a local store.
With no local papers being delivered, and Albert not having access to the internet, Chris was able to look at the local paper online to fill Albert in on what was going on. It turned out they both supported the same football team and so were delighted to be able to chat about how the team was doing once live football matches started up again.
More recently, Chris has been able to visit Albert in his garden, to have a face to face chat and to support and encourage Albert to start going for short walks in the local park. Eventually, the plan will be to go to a football match together, but they are starting slowly and have been out for a coffee recently at Albert's local café. Albert is so much happier now he has someone to talk to and to make plans with.
*Based on a real Reach Out match – names and circumstances have been changed to protect confidentiality.
If you can help then Reach Out Hertfordshire would love to hear from you. Click here to apply.
If you live in North Herts or Stevenage call us on 07780 304068
If you live in Welwyn & Hatfield, East Herts or Broxbourne call us on 07917 978728
If you live in Watford, Three Rivers, St Albans, Hertsmere & Dacorum call us on 07780 313651
For General Enquiries you can contact our main office on 01462 689403